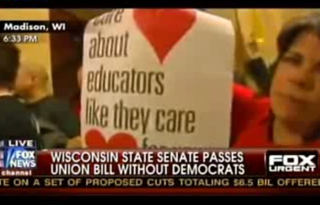 Looks like the Democratic senators' move to leave Wisconsin in order to block a vote on the state's controversial union bill has backfired. As their presence was needed solely because the bill was fiscal in nature according to the state's constitution, Republicans took all the fiscal material out of the bill and split it in two. The anti-union provisions that did not affect the state's budget just passed the Senate with only Republican support.
The Senate (well, the Senate Republicans) spent the day working with Governor Scott Walker to properly split the bill, with the union provisions passing earlier this evening. The mini-bill severely limits bargaining rights for most of the state's unions. Given that the original bill was publicized as a "budget repair bill" and Gov. Walker's main reasoning in public for the union measures were related to the state's finances, Walker and the Senate Republicans will now have to explain the urgency of passing the non-fiscal measures over the fiscal ones.
Needless to say, the Democrats are fuming. Senate Democratic leader Matt Miller released the following statement (via Dave Weigel) announcing that the Democrats will be back in Madison tomorrow:
In thirty minutes, 18 State Senators undid fifty years of civil rights in Wisconsin. Their disrespect for the people of Wisconsin and their rights is an outrage that will never be forgotten. Tonight, 18 Senate Republicans conspired to take government away from the people. Tomorrow we will join the people of Wisconsin in taking back their government.
Below is the initial report of the Senate passing the bill via Fox News:

Have a tip we should know? tips@mediaite.com