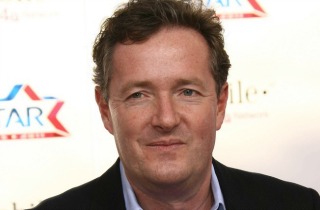 Piers Morgan says in a new interview that part of the reason he had such poor ratings before CNN canceled his daily show is because of his former colleague Anderson Cooper.
"Could I have done with a better lead-in? Yes," Morgan told Politico in an interview published Thursday. "Anderson is a great field reporter, but does he drive big ratings at CNN, outside of a big news cycle? I don't see any evidence of it. And yet the whole bank was being bet on him at 8 and 10 o'clock."
Throughout the interview, Morgan maintains that he wasn't hung up on his shaky ratings and he says he had hoped that CNN head Jeff Zucker would pay less attention to the numbers. But Morgan still doesn't think his former 9 p.m. ET show was done any favors by having Cooper as the lead-in.
"You look over at Megyn Kelly on Fox News and she's inheriting 450,000 or 500,000 from Bill O'Reilly in the [25-to-54-year-old] demo, and some days I'd be getting 60,000," Morgan said. "That's not to denigrate Anderson so much, because I think he's pretty good at what he does. But was he the golden boy everybody thought he was? I didn't see much evidence of that in ratings."
Morgan added that he and Cooper "never really clicked."
We've requested comment from a spokesman for Cooper at CNN.
Morgan's show was canceled in February after a nearly four-year run. He was recently named editor-at-large of The Daily Mail.
[Photo via Shutterstock]
— —
>> Follow Eddie Scarry (@eScarry) on Twitter
Have a tip we should know? tips@mediaite.com