With Historic Blizzard About to Bury Northeast, Weather Channel Takes Day Off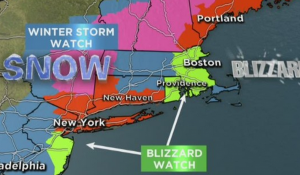 When it comes to exactly why the Weather Channel exists, know this: It doesn't for a benign sunny day in June or a crisp autumn evening. It isn't on your dial because of April showers or May flowers or for a few flurries Christmas night.
The Weather Channel exists for whatever that ominous blob is I'm seeing on my phone right now. Said blob–a huge nor'easter–is being described this way on my Weather Channel app via the following headline:
Winter Storm Juno: Blizzard Warnings for New York City, Boston, Parts of 7 States for Potentially Historic Northeast Snowstorm

Yikes! Needless to say, my afternoon has consisted of filling the Honda generator with gas, cleaning out the cooler and bringing in ample wood for the fireplace in case we lose power here in Jersey. I also headed over to the local ShopRite to stock up on food, and let's just say fear is in the air (30-minute wait despite 15 registers open). In the old single days living in Hoboken, storms like this meant heading to the closest bar (with a generator), getting overserved and laughing off the storm. Married with wife and baby me, however, needs to prepare the fort instead. Good times!
Part of that preparation includes turning on The Weather Channel and watching for the next 72 hours straight regardless of repetition. There's something about a huge storm–particularly those carrying the white stuff–that makes watching TWC must-see-TV in these situations. For whatever reason, the whole event, particularly the anticipation leading up to it, feels more important, a bigger deal.
So excuse me for a moment as I ask the following question to Weather Channel President David Clark and defacto President Jim Cantore: What the hell are you guys doing over there? Because when I turned on the Weather Channel late this morning after seeing the aforementioned ominous headline above…you know…the one about a Potentially Historic Northeast Blizzard…I kinda expected to not see taped programming about…plane crashes. And as of 5:00 PM, it still all about planes and not low pressure systems. Seriously…is anyone outside of a tape operator working today? How can you not be live right now? I know the storm isn't coming until tomorrow…but you can't write the following on your website and not have like-live-programming to accompany it (bold is included in the original advisory):
Now is the time to prepare and make sure you have the supplies you need for this potentially historic winter storm. Do not proceed with any travel plans in the affected areas late Monday and Tuesday or you could put yourself in great danger.
Uh…OK. Can you maybe…I don't know…call a production crew and anchor in to expand on this on television a bit further? Because if I ran a network whose existence, its ratings, its entire mantra is based on preparing for storms like this, I'd probably be on a phone right now. To that end, here's what Mr. Cantore said during a dispute with DirecTV last year:
I feel it's just irresponsible for DIRECTV to drop The Weather Channel and deny their viewers access to critical and potentially life-saving information in times of severe weather. I think it's a dangerous gamble to put lives at risk for a penny.
That dispute was settled (TWC got less than that penny) but Cantore and the network haven't learned its lesson. Its ratings continue to drop because it thinks running taped programming leading up to historic weather events is somehow a good idea. MSNBC apparently thinks the same thing, as it is offering up Caught on Camera (tape), while Fox and CNN are providing regular updates on the storm.
A missed opportunity for ratings. A missed opportunity to grab some viewers to help save a sinking ship. The Weather Channel website is telling us to prepare for the next storm of the century.
The Weather Channel itself? Apparently saving its resources for a rainy day.
UPDATE – 7:19pm: The Weather Channel is now broadcasting live with coverage of the blizzard starting at 7:00 PM…after being in tape for seven hours with "Why Planes Crash".
— —
>>Follow Joe Concha on Twitter @JoeConchaTV
Have a tip we should know? tips@mediaite.com