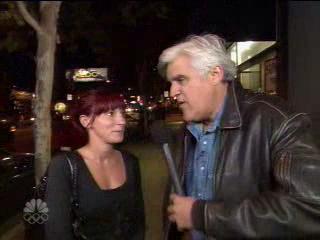 When the 10pm Jay Leno Show premiered in September, we wrote that "all the parts are the same, just in a different place" from The Tonight Show version.
As ratings continue to reach new lows, it's looking like the show will become even more like the old show than before.
The New York Times' Bill Carter writes about Monday's ratings:
This Monday Mr. Leno again hit just a 1.2 national rating– his lowest number to date — in the 18-49 year-old age group, which NBC uses to define success because of the number of advertisers who want to reach that group. He did, however, increase his total audience a bit from last Monday, when he faced both football and the World Series. This Monday he had 4.07 million viewers; a week before he had 3.92 million
When football dissipates from the schedule in early 2010, the theory is Leno's ratings will improve. But will they really? Then he'll compete with NBA playoffs, and probably other factors that will be used to explain, but not excuse, lagging ratings (assuming the show hasn't turned a corner in some way at that point).
One way that corner may be turned? Looking backwards. Broadcasting & Cable's Alex Weprin writes about format changes at the show:
The first half hour or so of Monday's Jay Leno Show was nearly identical to the first half hour of Leno's Tonight Show.

A spokesperson for NBC says that Headlines will be towards the front of the show again next week (Nov. 16). Other episodes will feature a retooled format as well, with certain comedy bits and interviews appearing earlier or later than they normally would.
So now the show will look more like The Tonight Show did – although it looked a lot like The Tonight Show before. Will the new format, which presumably will pit musical acts and other guests as the lead-in for local news instead of Headlines and comedy bits, help the ratings for the affiliates? Maybe – it's certainly worth a try. But it's surprising to think this mini-shake-up would possibly be the key to helping the ratings of The Jay Leno Show.
But NBC is taking the long view, so there's opportunities to shuffle the format and tinker with different factors. As we reach the two-month mark, some press that doesn't involve the 18-49 ratings can't hurt either.
—–
» Follow Steve Krakauer on Twitter
Have a tip we should know? tips@mediaite.com