With Trump Abortion Flap, MSNBC Enjoys Best Week in Forever as Changes Appear to Pay Off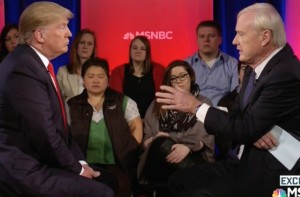 For MSNBC, it was its most relevant moment in a long time…
That moment, of course, was the Donald Trump Town Hall hosted by MSNBC's Chris Matthews Wednesday night and the unfiltered (and arguably unprepared) candidate's you-gotta-be-kidding-me response during this exchange:
MATTHEWS: Do you believe in punishment for abortion, yes or no, as a principle?

TRUMP: The answer is that there has to be some form of punishment.

MATTHEWS: For the woman?

TRUMP: Yes, there has to be some form.
With that answer on a position Trump clearly hadn't seriously pondered nor expected to be asked about, the GOP delegate leader somehow managed to unite pro-choice and pro-life groups against him in condemning that perspective. And since that time, the candidate has been in positions we rarely see: defensive, backtracking and therefore weak. Pundits have stated bad Trump moments as the beginning of the end of his candidacy about 48-143 times during this race, but this moment may be the real deal in halting his momentum. We'll see what happens in Wisconsin this week, but the result looks more like a Ted Cruz blowout in a state Trump led big in just one month ago, with the Texas senator up ten points (Marquette Law poll). Even John Kasich is within single digits of Trump in the Badger State. Add it all up, and Chaos in Cleveland for this July's convention looks like a real possibility if Trump can't take Wisconsin.
MSNBC has been getting serious mileage out of the Trump comment in a way we haven't seen for the network in what seems like forever. According to ListenFirst, a media-tracking site, Trump's response above to Matthews' question has generated more than 80,000 (correction: 74,000 as of April 1) organic mentions on Twitter. Context: That's 550 percent (correction: 500 percent as of April 1) more mentions than the Trump-Ted Cruz/Heidi Cruz controversy that seemed to light up social media. Apparently, the wife blowup was just a manageable brush fire compared to Trump's abortion comment, and MSNBC is benefiting as a result.
Memories are short in this business, so let's put that last sentence around benefits into another context: The 2016 Republican frontrunner decided to appear on a network known not too long ago for being patently positively progressive before a crucial primary… a scenario that would have never occurred four years ago in 2012. As a result, MSNBC — almost always a distant third outside of its morning program — won the night over Fox and CNN in the key demo (25-54).
And that's the point here: MSNBC has made a major transition over the past year. All of its opinion shows (Ronan Farrow, Joy Reid, The Cycle and Alex Wagner) were replaced with traditional newscasts (Thomas Roberts, Kate Snow anchoring two-hour blocks in their place). It was painful at 30 Rock for sure, but absolutely necessary given how far south and left the network had drifted. Some gravitas was needed. The get-well plan was — and this is the only word that comes to mind — pragmatic: don't try to remake the cable arm of NBC News by (expensively) hiring (likely failed retreads) from the outside. Instead, use the (underused and talented) resources of NBC News conveniently right there in the same building.
Wednesday night was a prime example of what happens when a cable news network offers up different perspectives and candidates from both sides of the aisle. It is a microcosm of what appears to be NBC News/MSNBC Chairman Andy Lack's vision of what the network should look like moving forward. Example: Here's the diversity of MSNBC offering up Wednesday:
7pm: John Kasich, with Chuck Todd from Queens, New York
8pm: Donald Trump. with Chris Matthews from Green Bay, Wisconsin
9pm: Hillary Clinton with Rachel Maddow
10pm: Bernie Sanders with Rachel Maddow
In 2012, this kind of lineup would have never been offered. Why? Chew on this stat: Per Pew Research, 68 percent of the network's coverage of Mitt Romney was negative from October 29th to November 5th of that year. That isn't exactly a shock until considering Pew found no positive stories/coverage of the GOP nominee when looking at all stories from that final week of the campaign. Not one. Pew also found not one instance of coverage negative to President Obama. And from what I can see, no major Republican appeared on MSNBC at all in any capacity, let alone Town Halls. This year, every major candidiate (outside of Ted Cruz) has done Town Halls and plenty of interviews. That's progress while broadening potential audience.
In 2016, picking a side and going all in simply isn't good for business nor is it (obviously) responsible or compelling. The old MSNBC of 2012-2014 was mostly opinion (85 percent according to Pew, with Fox and CNN hovering just north and south of 50 percent, respectively) and that created an echo effect throughout the day with programs having difficulty distinguishing themselves from each other. The new MSNBC now more resembles Fox and CNN in dayside, sticking to mostly traditional news formats (Fox's Outnumbered being the exception) with a decided tilt toward election coverage. Result? MSNBC is up 133 percent in Dayside year-over-year in the key demo, while up 83 percent in total viewers. Context: In 2012 — the last presidential election year — the MSNBC year-over-year increase was just 18 percent.
Donald Trump made arguably his biggest mistake — one that actually may be causing real damage to his Teflon poll numbers — of his campaign Wednesday night. It happened on MSNBC. The moderator's question was more than fair. The network won the night and the clip has dominated news cycles and social media since.
MSNBC has undergone an extreme makeover over the past year. It had little choice not to.
"Change is the law of life," John F. Kennedy once said. "And those who look only to the past or present are certain to miss the future."
You're looking at MSNBC's future right now. It's a more serious, balanced effort.
At least so far, so good. The moves are paying off.
The question is: Can it sustain what's it building after November?
>>Follow Joe Concha on Twitter @JoeConchaTV
This is an opinion piece. The views expressed in this article are those of just the author.