'Woke Police!' Fox Falls For Obviously Fake Story That Root Beer Chain is Putting Pants on 'Polarizing' Mascot
Fox News got duped into taking an obvious joke about a root beer company's beloved mascot and turning it into fodder for the endless culture wars.
A&W issued a statement on Tuesday declaring a modification of their mascot Rooty the Great American Root Bear. The fast food & root beer chain said its "polarizing" mascot will no longer be pants-less. Rooty will, going forward, wear jeans.
The statement is a clear nod to the announcement from M&Ms that it suspending its "spokescandies," which have been the subject of hysteria on Fox News for months.
"Since 1963, Rooty the Great Root Bear has been our beloved spokesbear," A&W said in its statement. "We knew people would notice because he's literally a 6-foot tall bear wearing an orange sweater. But now we get it — even a mascot's lack of pants can be polarizing. Therefore, we have decided that Rooty will wear jeans going forward."
A&W followed up its statement with a clarification for those who did not get it: "Is now a good time to mention this is a joke? 😅"
As it turned out, it was a clarification that came too late for Fox.
The network covered the announcement with a Fox Business article bearing the headline "A&W Root Beer puts pants on 'polarizing' mascot bear Rooty after M&Ms 'pauses' spokescandies."
Fox News also promoted the article on social media by describing A&W as "the latest company bowing to 'woke'"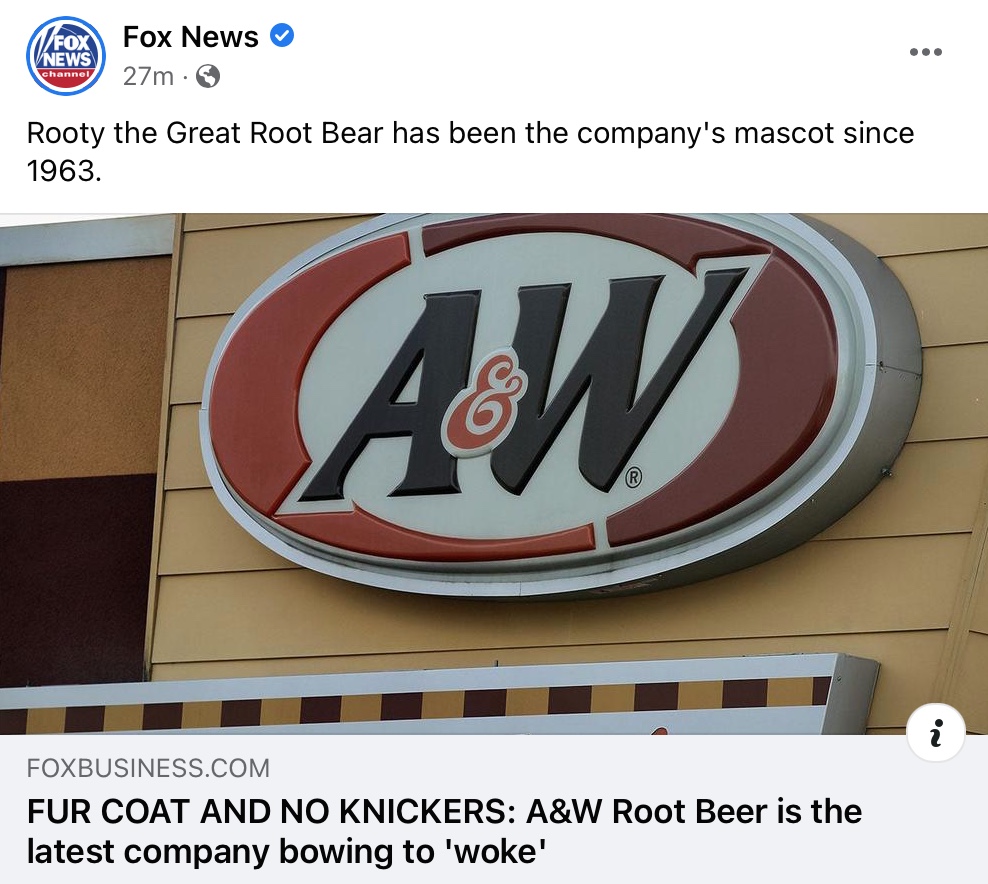 On Fox Business program Mornings With Maria Wednesday, Cheryl Casone expressed outrage over the A&W statement.
"First it was M&M's, now a bear has to wear pants," she exclaimed. "This is the woke police. Cancel culture has gone ridiculous."
"Quit your crying!" Maria Bartiromo told the root beer company. She subsequently turned to guest panelist James Freeman and asked him "you think it's a joke?"
Freeman and the rest of the panel went on to speculate that A&W's statement was a play for attention.
Fox Business later updated the headline of its article to note the statement was a joke.

Watch above via Fox Business.
Have a tip we should know? tips@mediaite.com