Wolf Blitzer And Wyclef Jean Speak Creole In Surreal Haitian Politics Segment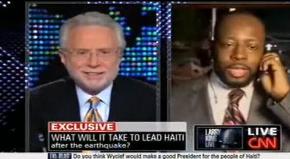 Sometime between musician Wyclef Jean's announcement on CNN that he will be running for President of Haiti and Sean Penn's very clear non-endorsement, Wyclef and Wolf Blitzer were talking about the financial problems the candidate has in the United States.
Then Wolf started speaking Creole and things just got awkward.
Blitzer asked Jean if he's "paid up all of the back taxes" he reportedly owes – two million plus. "I have great lawyers and I have great business people that work with me in the life of Wyclef Jean," said Jean. "There is no situation of Wyclef Jean that we will ignore."
So, again, about those taxes. "Any personal Wyclef matters are being handled as we speak," he said.
Ok then! Now at some point in the nearly program-long interview, the satellite connection stopped working so Jean called on a phone, and then the feed picked back up but on a significant delay from the audio. With that in mind, Wolf asked Wyclef if he could speak creole. So he did. "That sounds like good creole to me," said Blitzer, who promised to speak some creole himself. "Speak softly, slowly and I'll do the best I can."
There was a call-and-response in creole between Jean and Blitzer, followed by Wyclef saying, "Alright Wolf, you my man, we love you in Haiti," turning to the crowd behind him and drawing cheers – all while the significant delay made the whole exchange that much stranger.
If anyone's curious about the Wyclef Jean platform, you can check out his song from a couple years ago, "If I Was President."
Here's the strange exchange – which ends in a discussion of Bill Clinton:


—–
» Follow Steve Krakauer on Twitter
Have a tip we should know? tips@mediaite.com