Wolf Blitzer Calls Woodward's Email From White House 'Tame': 'Maybe This Whole Sidebar Is Being Overblown?'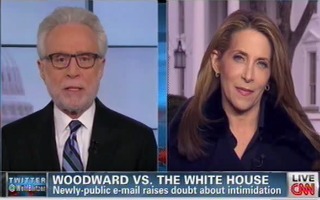 CNN anchor Wolf Blitzer called the email that Washington Post reporter Bob Woodward received from National Economic Council Director Gene Sperling and considered threatening, "tame." In an interview with CNN reporter Jessica Yellin, Blitzer said that the content of the email that Woodward found disconcerting was, in his opinion, mild. Yellin agreed. She and Blitzer added that they have had a significant amount of contact with Sperling over the years and he has never been anything but cordial, if not a little "animated."

RELATED: NBC News Senior Political Editor: Woodward's 'Threatening' Email Was 'Nicest Brushback' A Reporter Ever Got
"Based on that email exchange at least – I don't know what happened in the extensive, apparently, angry phone conversation that Gene Sperling and Bob Woodward had – but on the email exchange, it doesn't look like it, at least on the surface, journalistically or whatever, exchange is all that awful," Blitzer said.
"Certainly, there was no direct threat or anything like that – you will be punished or whatever – it was relatively tame," Blitzer continued. "Maybe this whole sidebar is being overblown?"
"There's no explicit threat in that email," Yellin agreed. "I know form working with Gene Sperling – I personally have never been bullied by him – he gets very excited, and very, very talkative."
"All of us know Gene Sperling very well," Blitzer continued. He said that CNN invited both Woodward and Sperling on the program, but they declined. However, Blitzer noted that there was "some good news coming out of all of this:" Sperling will appear on CNN's State of the Union with Candy Crowley on Sunday morning.
Watch the clip below via CNN:
> >Follow Noah Rothman (@NoahCRothman) on Twitter
Have a tip we should know? tips@mediaite.com