Wolf Blitzer Chastises Hilary Rosen Over Comment: Democrats Are Now 'Throwing You Under The Bus'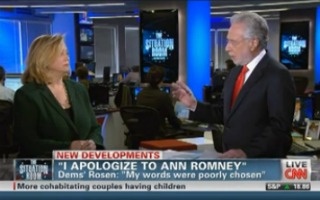 Democratic adviser and CNN political contributor Hilary Rosen stopped by the Situation Room Thursday afternoon, where host Wolf Blitzer — to put it quite bluntly — chastised her over comments she'd made about Ann Romney never having worked "a day in her life."
"I see you smiling a little bit," he told his guest, "but I don't know why you're smiling."
"Well, I'm smiling at sort of how crazy this all his," Rosen told him. "Because, first of all, I have been a stay-at-home mom; this is not a debate about stay-at-home moms versus working moms. I said this afternoon and I said it, actually, last night, that what I meant had nothing to do with an attack on stay-at-moms. What I meant was that Mitt Romney is using his wife as an economic surrogate."
The main question at play here, she continued is whether Mitt Romney truly understands "the struggles of women, economically."
RELATED: Ann Romney Responds to Hilary Rosen: 'I Know What It's Like To Struggle'
"How should you have phrased what you wanted to say?" Blizter asked. "Because this was an awful way of saying that," he added, calling Ann Romney a "wonderful woman" and mentioning her struggles with MS and breast cancer.
"If I had the do-over," Rosen responded, "what I would be saying is that Mitt Romney should not be on the campaign trail saying to women, 'My wife tells me how it is for a mom, for women out there.' Because people of wealth sometimes take for granted some of the niceties that they have in life. And the Romneys are people of wealth."
Blitzer then made Rosen look directly into the camera and give a statement directly to Ann Romney. "Mrs. Romney," said Rosen, "I applaud your decision to stay home and raise what are obviously five wonderful boys. This is not about stay-at-home moms versus working moms. I think your husband needs to stand up for women's economic struggles, and so far we have not seen how he's going to do that in the campaign trail. It hasn't come out of his mouth, and maybe it will at some point, but this is a distraction that his campaign is forcing on the American people to avoid his record on the issues."
"I didn't hear an apology," said Blizter. Rosen, who has already issued an apology to Ann, repeated her statement into the camera.
When Blitzer asked why Rosen had brought Mrs. Romney into the conversation in the first place, noting that Rosen had "hated it" when conservatives had gone after, say, Michelle Obama. Rosen said that Ann Romney and her husband had injected themselves into this conversation to begin with. Blitzer then opined that Democrats were now throwing Rosen under the bus, pointing specifically to a Tweet by the First Lady sharing that "Every mother works hard, and every woman deserves to be respected" and another by DNC chairwoman Debbie Wasserman Schultz saying that she is "Disappointed in @hilaryr's comments. As a mother of 3 there's no doubt that raising children is work."
"How does it feel when all your fellow Democrats are going after you?" he asked.
Rosen chalked it up to "politics," adding that she does happen to completely agree with Mrs. Obama's Tweet.
Blitzer then played a clip of White House Press Secretary Jay Carney deflecting a question about Rosen by saying that he knew "three women, personally, named Hilary Rosen." All the while, Rosen's reaction was also shown onscreen.
"I'm not claiming victim here," she concluded, admitting that she's been on the other side of "jumping" on people's comments.
When the host suggested Rosen and Ann Romney might want to talk things through together, Rosen quite candidly said that "we don't need a beer summit; she doesn't have to answer to me. Her husband is running for president."
Check it out, via CNN:
Have a tip we should know? tips@mediaite.com