Wolf Blitzer Did Not Blame Right For Boston Bombing And Doesn't Have To Apologize To Anyone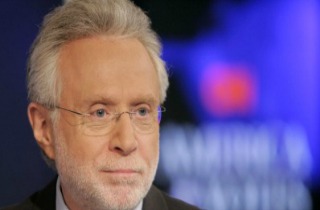 CNN anchor Wolf Blitzer is taking heat from conservatives over comments he made in the immediate wake of the Boston Marathon bombings. Blitzer is being accused of speculating that, less than one hour after two explosive devices killed three and wounded nearly 150 more, the political right in America was behind the cowardly attacks. Except Blitzer did no such thing. Though some commentators and analysts were inclined to make this leap of logic, Blitzer was not among them. Today, many – including a Republican member of Congress – are calling on Blitzer to apologize for his comments. Blitzer has absolutely nothing to apologize for.

RELATED: Matthews Speculates About 'Far Right,' Anti-Tax, Anti-Kennedy Terrorism Behind Boston Marathon Attacks
"It is a state holiday in Massachusetts today called Patriots' Day and who knows if that had anything at all to do with these explosions," Blitzer said within an hour of the first blasts on CNN. He went on in that segment to list the many reasons why April 15 is a significant day for Americans and especially for Bostonians.
BuzzFeed has a collection of the hyperventilating twitter users who vented their frustration at Blitzer's comments. Many said that he had taken to "blaming the tea party" for the attacks. But it is clear that the CNN anchor was merely identifying the significance of the date. Terror groups, Al Qaeda in particular, have consistently sought to execute terror attacks on dates with a numerical or historic significance. Not observing that yesterday was the holiday marking the Revolutionary War, which incidentally happens to coincide with the date that Americans' tax filings are due, would have been nothing short of malpractice for any commentator or analyst.
"Wolf Blizter [sic] should immediately apologize," tweeted Rep. Steve Stockman (R-TX), undeterred by the exculpatory context of Blitzer's comment. "The mainstream media once again exploit killings to attack political opponents."
Now, it is true that some in the media were inclined to indulge their personal desire to see the political right exposed as the culprits behind this attack.
In spite of his stated assessment that the signature explosive profile of the devices used in the Boston attack indicated to him that foreign elements had carried out the attack, CNN analyst Peter Bergen also noted that the "right-wing" could be behind the event. NBC Reporter Luke Russert said that he saw shades of Waco in the auspicious date of the attacks – an inexplicable and irresponsible statement.
MSNBC host Chris Matthews, who is as likely to blame right wing extremism for being out of toilet paper as he is for the latest act of horrific mass violence, also went out of his way to identify a link between this attack and American conservatism.
But to say that these reactions were anything other than outliers is disingenuous. The media's class of commentators and analysts have been, relatively speaking, responsible broadcasters during this atrocity. Blitzer is among those broadcasters who have comported themselves in a responsible fashion. He has thus far avoided baseless speculation while being on the air practically nonstop during this disaster. That is worthy of praise.
Those on the right attacking Blitzer are being paranoid. The media has a rather tragic record of baselessly blaming the right for violence in this country – conservatives have earned the right to be paranoid. But that does not give them the right to be incorrect and, in this case, they are absolutely wrong.
> >Follow Noah Rothman (@NoahCRothman) on Twitter
Have a tip we should know? tips@mediaite.com