Wolf Blitzer: Did Trump Team Come Up With a 'Face-Saving Way' For Giuliani to 'Go Away'?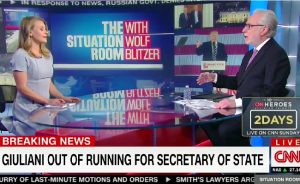 After it was rumored earlier today that former New York City Mayor Rudy Giuliani was no longer under consideration for Secretary of State, the one-time presidential candidate released a statement in which he withdrew his name from the running.
However, based on reporting from CNN, it appears that Giuliani's statement claiming he withdrew his name back on November 29th was largely a facade for Giuliani to save face.
Reporter Sara Murray spoke with Wolf Blitzer this afternoon and stated that he was actually told by President-elect Donald Trump's team that he wasn't going to be Secretary of State and they were trying to get him to accept a different position in the administration.
"Sources say he was informed he would not be getting the Secretary of State position," Murray stated. "And behind the scenes they had been trying to urge him to accept maybe one of these other slots in the national security and defense arena and Giuliani had made it very clear it was Secretary of State that that's what he wanted."
Blitzer asked Murray, "So they came up with sort of a face-saving way for him to go away, is that what you're hearing?"
"Right, absolutely," Murray replied. "Which is incredible when you think about how early he threw his support behind Trump and how Trump has made a big deal of being a candidate who rewards loyalty."
Shortly after releasing his statement, Giuliani called into Fox News where he said his desire for a Cabinet spot "wasn't that great. He also used that appearance to slam SoS candidate Mitt Romney.
Watch the clip above, via CNN.
[image via screengrab]
–
Follow Justin Baragona on Twitter: @justinbaragona
Have a tip we should know? tips@mediaite.com