Wolf Blitzer Forces Gingrich To Sit Through Obama Ad Featuring His Attacks On Romney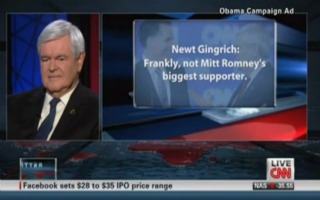 Former House Speaker Newt Gingrich appeared on CNN's The Situation Room with Wolf Blitzer on Thursday where he was asked to describe what he believed were his biggest mistakes over the course of his nearly year-long presidential campaign. During the interview, Gingrich was forced to watch portions of an Obama campaign ad that features the Speaker's attacks on presumptive Republican presidential nominee Mitt Romney.

RELATED: Newt Attitude: Gingrich Attacks Romney In Endorsement-Preempting Obama Campaign Ad
"What was the biggest mistake you made," Blitzer asked Gingrich.
The Speaker replied that he wished he would have stuck to the themes he discussed in his 23-minute long campaign suspension speech on Wednesday and ignoring the "day-to-day political infighting."
"The more visionary I was, the better we were doing," said Gingrich.
Blitzer brought up the Greek cruise that the Gingrich campaign shortly after announcing his campaign, which the Speaker thought was "blown out of proportion."
"I made a mistake in bringing in traditional consultants," said Gingrich. "People who wanted to focus on running 30-second campaign ads and raising money." Gingrich said he wanted to run a campaign based on "big solutions" but found it more difficult to run that campaign than he had expected.
Blitzer then played portions of a nearly 90-second Obama campaign web ad which features a litany of attacks that Gingrich made against Romney over the cause of the presidential campaign and displayed Gingrich's reaction to the ad in a side-by-side split screen. Gingrich laughed the ad off and said that when Sen. John McCain tried to use Sec. Hillary Clinton's attacks in the primary race against President Obama "it didn't work very well."
Gingrich said that he would go to friends "begging for a little help" to retire some of his $4 million in campaign-related debt, but would spend the rest of the year making campaign appearances for Romney.
Watch the segment below via CNN:
Have a tip we should know? [email protected]