Wolf Blitzer Grills GOP Rep.: You Really Think Obamacare Will 'Destroy America'?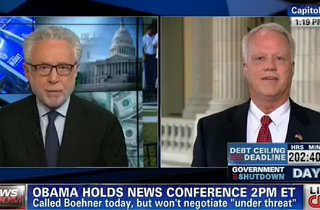 On CNN Tuesday afternoon, Wolf Blitzer challenged Rep. Paul Broun (R-GA) to defend his comments that House Speaker John Boehner (R-OH) will face "rebellion" if he compromises on government shutdown. "You obviously hate Obamacare," the CNN anchor said to the congressman at one point during their tense exchange.
After Broun explained his belief that the Affordable Care Act (known colloquially as "Obamacare") will "destroy jobs, budgets, and the quality of health care" in America, Blitzer pressed: "But you know it's the law of the land. It was passed by the House and Senate and signed into law by the president. The Supreme Court approved it saying it was constitutional. The president was reelected by 5 million votes so it is the law of the land right now."
"It's the flaw of the land in actuality," Broun shot back.
Later on, after Broun further asserted his anti-Obamacare stance, Blitzer interrupted to quote the congressman's own words in the National Review: "You said 'America is going to be destroyed by Obamacare so whatever deal is put together must at least reschedule the implementation of Obamacare. This law is going to destroy America, and everything in America, and we need to stop it.'"
"Do you still stand by all of those pretty extreme words?" the CNN host asked.
Broun reiterated his belief that Congress must defend the healthcare law, but Blitzer was seemingly unsatisfied: "I know you hate it, but I just want to be precise," the anchor said, "America is going to be destroyed, you say, by Obamacare. America? This United States of America is going to be destroyed if this law is fully implemented? Is that what I hear you say?"
"It's already destroying jobs!" Broun said.
"I know you say it's destroying jobs, but you're not saying America," a frustrated Blitzer interjected. "The United States of America, this country of ours will be destroyed by Obamacare. That's what you were quoted here as saying. I want to give you a chance to revise and amend, if you'd like to."
Finally, Broun addressed the specific comments: "Well, it's going to take us off the edge economically. It's going to destroy our economy and it's going to push us into a total economic collapse of America. And that's exactly what I mean by it's going to destroy America."
Watch the full segment below, via CNN:
— —
>> Follow Andrew Kirell (@AndrewKirell) on Twitter
Have a tip we should know? tips@mediaite.com