Wolf Blitzer: I Believed Rep. Weiner's Line That Somebody Else Hacked His Account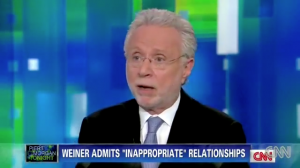 Of all the interviews Anthony Weiner had last week, his sit-down with Wolf Blitzer was one of the most interesting. Weiner seemed relatively calm and collected, denying he tweeted the picture while not ruling out the possibility that it was a picture of him.
Well, after yesterday's increasingly bizarre press conference, Blitzer appeared on Piers Morgan Tonight to reflect on his interview with the congressman and how he was convinced Weiner was telling the truth about his Twitter account being hacked.
It sounds to me like it may have been his picture but it was out there but somebody else hacked it and somebody else sent it out to embarrass him. I… believed that line, especially when some technology experts were telling me that there were certain Twitter, you know, TweetPic [sic] opportunities where it's not that difficult to… look like somebody else is sending a picture that, really, you're sending.
Morgan asked Blitzer if any politician had ever lied to Blitzer as blatantly as Weiner did in the interview. Blitzer was reminded of the Monica Lewinsky scandal, when he was in the room with other pool reporters when Bill Clinton uttered his infamous "I did not have sexual relations with that woman" line. However, he also used the Clinton analogy to point out that all these years later, the former president remains very popular despite his sex scandal, which was, arguably, more damaging than Weiner's.
Morgan wanted to know if Blitzer sees himself as a "barometer" for lying politicians, and whether most people should just assume that politicians are always engaging in falsehoods. Blitzer admitted that "there are plenty of liars out there," but added that most lies are not blatant, but more subtle, in order to make them more believable.
Watch an excerpt of Blitzer's interview below, courtesy of CNN:
Have a tip we should know? tips@mediaite.com
Josh Feldman - Senior Editor