Woman Forgets to Return J-Lo Movie VHS for Nine Years, Finally Gets Arrested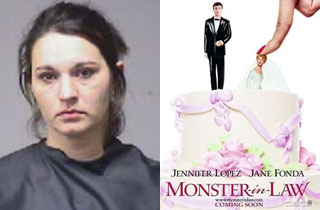 A South Carolina woman spent a night in jail for watching a terrible J-Lo movie, and then being so scarred from the experience that she forgot to return the VHS tape for nine years.
Kayla Michelle Finley was arrested on an outstanding warrant from 2005, when she rented Monster-in-Law, a widely-panned movie starring Jennifer Lopez and Jane Fonda, and forgot to return the tape (a tape!) to Dalton Videos, which does not exist anymore.

According to Finley, who allegedly took to a local Fox affiliate's Facebook page to defend herself, she'd forgotten about the tape when she and her husband moved out of South Carolina for a job opportunity. "Not once did i ever receive anything regarding this, if i had it would have been taken care of immediately," Finley wrote. "Some of you need to quit juding [sic] like you are. This is a bogus charge and everyone knows it." (The owner of Dalton Videos claims that he sent her several letters demanding the tape's return, making us wonder if there's something very valuable in the video, like thousands of dollars, or cocaine, or a secret treasure map.)
According to CNN, Finley currently faces a misdemeanor charge for forgetting that VHS was ever a media format that was once worth actual dollars. (It's very easy to forget that.)
For the people who forgot that Monster-in-Law was a movie starring Real Celebrities, here's the trailer, so thin and insipid that it'll seep right through the fine-mesh sieve of your brain. Perhaps you'll sympathize with Finley.
[CNN]
[Image via the Pickens County Sheriff's Department]
— —
>> Follow Tina Nguyen (@Tina_Nguyen) on Twitter
Have a tip we should know? tips@mediaite.com