Woman Who Assaulted TV Crew With Attack Dogs Speaks Out: 'This Whole Story Is Ruining My Life'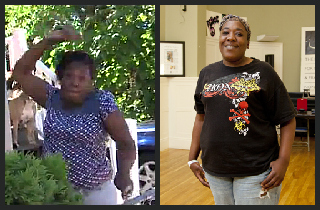 Last week, we were introduced to the story of Melisa Lawrence, a single mom who assaulted a local news crew after they appeared near her property to ask questions about her daughter having been shot at a kindergarten graduation party. After her arrest and public shaming, Lawrence is speaking out to give her side of the story.
Video of the incident went viral, showing Lawrence throwing rocks, wielding a baseball bat, and sicking her two dogs on the ABC6 reporter. The Providence, R.I., resident was subsequently arrested and charged with two counts of felony assault with a dangerous weapon. Her daughter has since been released from the hospital and is currently recovering from the gunshot wound.
In an interview with The Providence Phoenix, Lawrence has given her explanation as to why she behaved so violently, leading the paper to ask "News at what cost?"
"Everybody's like, 'Oh, you're a star now!' I don't feel like a star. If this is what they call 'being a star' then guess what? Let me be the dirt," she told the paper. "I'd rather be just a pile of dirt. Because that's how I feel. I feel like a bag of poop. I feel like nothing. I feel like the scum of the earth."
She then explained her circumstances:
I'm a single mom. I have no income. I had been in the hospital for a week. And to come home and the next day, the lights get turned off. Then. . . we have the party, my daughter gets shot. Then. . . Monday, I believe, my gas got shut off.

Everything's just happening to me all at once. I was just under so much stress — like tremendous amounts of stress. That day I just wanted to be left alone. I was already sad because of everything, the whole fact that my daughter got shot and the lights getting turned off, the gas getting turned off. I didn't want to be bothered with nobody.

I had a very close friend there with me to help me get some stuff together, 'cause we had to leave our home. I'm not allowed to stay in my house. If I stay in my house and I have my children with me, DCF will take my children from me. So in the process of all that, I saw the news reporter. She came walking around the corner. And she's like, "Hi, Melisa. . . " I was just like "Nope!" I was like, "No interviews, no interviews."

When you're dealing with the parents, grandparents, aunts, uncles or whoever — just dealing with victims of a shooting, period — have some compassion. Put yourself in their shoes. You know? Try to get a better understanding of what they're going through and, like, approach them a different way. If they say "No," just understand: "No" means "No."
She continued on to lament how the whole ordeal has "ruined" her life:
Am I going to ever be able to get another job? Will I ever be able to get another dog? Those are the things I have to think about. Is anyone going to want to rent an apartment to me? This thing, it might have gotten ABC [ratings]. . . Abbey might have gotten what she wanted. . . a promotion or [a] raise or whatever for the station. But at the end, was it really worth it? Was it really worth it? Basically, this whole story is ruining my life.

All I really want to do now is just stay indoors. I don't want to go outside. I don't want to be around nobody except for my family and friends that are supporting me. And that's all I wanted that day . . . just to be with family and friends and support and [to] go see my daughter. That was all I wanted. I didn't want to be bothered.
Read the full feature here.
And if you missed the original story, it's below via ABC6 Providence:
[photos courtesy of ABC6 / The Providence Phoenix]
— —
>> Follow Andrew Kirell (@AndrewKirell) on Twitter
Have a tip we should know? [email protected]