Woodward to Fox: White House Thinks 'I Started' Narrative That Obama Doesn't Lead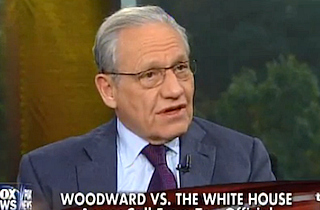 Veteran journalist Bob Woodward spoke to Media Buzz's Howard Kurtz about the White House reaction to his sometimes critical reporting of President Barack Obama's administration, suggesting that the White House blamed him for starting the narrative that Obama was too passive in his confrontations with the Republican Congress.
"They said I started it," Woodward said. "That I started this idea of he's gotta lead, and he's too passive at times on these budget issues."
Woodward said he was being "empirical" in his judgment, and that according to his empiricism Obama had failed to leverage the powers of his office.
"The president is the CEO of the country, and he has to find a way to work his will. As you recount all of this, you see that the president is the one who calls people to the White House, they don't call him to the Congress. He's got the hammer."
Kurtz asked if Woodward had received any pushback from the White House.
"No one likes to be criticized and called out," Woodward said. "I think the temperature's going up right now as there's more and more criticism" over Obama's handling of the Affordable Care Act rollout.
Woodward noted the White House Press Corps had incentive not to criticize the White House for fear of losing access, but that all White Houses had approached the media in this fashion.
"They all play hardball," Woodward said. "But we are in a situation now with the cable news coverage and the internet, and the impatience and speed driving everything, give it to me now, give me the soundbites. You gotta live in that world. I don't, quite frankly."
Watch the full clip below, Fox News:
[Image via screengrab]
——
>> Follow Evan McMurry (@evanmcmurry) on Twitter
Have a tip we should know? [email protected]