Workers Have Months to Do 'Year's Worth of Work' Dismantling Letterman Marquee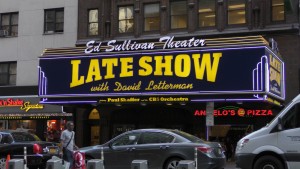 Nearly a week has passed since the final episode of the Late Show with David Letterman aired on CBS, yet the show's iconic marquee is still up outside the Ed Sullivan Theater. This despite the fast-paced efforts of construction crews who immediately began dismantling the set the following day.
Death and Taxes visited the famous marquee this morning and, after discussing the matter with several crewmen on site, discovered why the sign is still up:
[The] incoming sign for Stephen Colbert's show is going to be a real bitch to put together. It cost somewhere between $500k and $700k, he said, and has all sorts of digital bells and whistles.
Basically, the old marquee remains because the new one for the Late Show with Stephen Colbert is going to be a monumental task — especially considering the incredibly small amount of time crew have to do it.
"We got about a year's worth of work to do in just a few months," he said, referring to finishing out the studio as well as the marquee.
So let's do the math. Colbert's Late Show premieres on Tuesday, September 8, whereas Letterman's final show aired on Wednesday, May 20. That's 15 weeks and 6 days of available time, though it's probably much less than that — given necessary setup, testing and rehearsal time.
UPDATE — May 28, 2015, 12:28 p.m. ET: The Late Show with David Letterman marquee was removed overnight by work crews on the scene. Images of the barren Ed Sullivan Theater sign hit social media on Thursday morning.
Wow, @Letterman's Late Show marquee has already been taken down. Ed Sullivan theater this morning. pic.twitter.com/PG3tv6Pg9B

— Dave Itzkoff (@ditzkoff) May 28, 2015
[h/t Death and Taxes]
[Image via Shutterstock]
— —
>> Follow Andrew Husband (@AndrewHusband) on Twitter
Have a tip we should know? tips@mediaite.com