Workers Speak Out Against Anti-Bain Documentary: We Had No Idea The Film Was About Bain Or Romney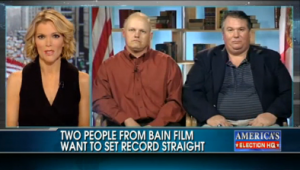 This week, two men who appear in the short film (or, if you prefer, long political ad) When Mitt Romney Came to Town (referred to also as "King of Bain") told Fox News' Megyn Kelly that their words were taken "grossly" out of context.
The ad, you'll recall, was purchased for $40,000 — exactly the reported amount it took to create it — by the pro-Gingrich super PAC "Winning Our Future," and purports to look back at Romney's role at Bain Capital.
RELATED: The New Film From Pro-Gingrich Super PAC: Mitt Romney Is 'The Man That Destroyed Us'
Tommy Jones and Mike Baxley worked for a commercial washing machine company called UniMac, and are two of several people who appear in the film to talk about losing their jobs, pensions, and/or insurance because of, as the film presents it, Bain's cutthroat business practices.
But, Jones said, he had no idea he was participating in a film about Bain or Romney. He'd been told only that he movie was about big, U.S. corporations taking over smaller businesses. Furthermore, when he talks about losing his insurance and experiencing strain in his marriage, he hadn't been talking about Bain or Romney but was, rather, referring to the stress of starting a new business. In fact, when Bain did take over UniMac, Jones was given a promotion and everyone at the company received a raise.
RELATED: Gingrich Super PAC Adviser Defends Anti-Romney Doc, Calls Him A 'Low-Flying Vulture'
Baxley also maintains he not been referring to Romney or Bain when talking about his financial struggles for the documentary. "It was a time period," he clarified, "after Bain had sold us to the Ontario Teachers Pension Fund and, like Tommy said, we were discussing the end of the time period, just before they closed the doors. Bain didn't even own us at that point, and we were discussing and talking about and we were scared, going out on our own, not having insurance. Almost the same thing Tommy was just talking about with his family. And that's where we were at in that interview."
Furthermore, he says, he believes the filmmakers were deceptive in how they portrayed him, particularly in one scene where he is seen wiping his face with a tissue. He wasn't wiping away tears, he said, but sweat, all because the room he was being interviewed in had been incredibly hot.
The two said they're coming forward because having their words misconstrued to suit a political purpose has been frustrating. As for who they're going to vote for: Both men are undecided, although Baxley says he's "leaning towards" Romney. He wants to wait and see how he fares down in his home state of Florida.
Have a look at what they had to say, via Fox News:
h/t The Blaze
Have a tip we should know? tips@mediaite.com