'Workplace Shooting' Or Act Of Terror? Fox Panel Takes On Fort Hood Victims' 'Betrayal' By Obama Administration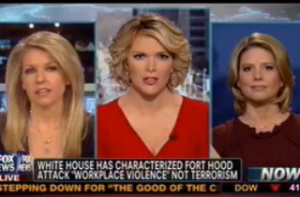 Wednesday afternoon on Fox News, Megyn Kelly brought to light the "stunning claims" by Fort Hood shooting victim Kimberly Munley, who is accusing President Obama of "betrayal" over his administration's handling of that 2009 tragedy.
Munley, who was First Lady Michelle Obama's personal guest at the 2010 State of the Union, is now saying that the president has broken a promise he made to help her by classifying the incident as a "workplace shooting" rather than an act of terrorism.
As Fox reporter Trace Gallagher outlined, Major Nidal Malik Hasan opened fire on his fellow officers, killing 13 and wounding an additional 32. Hasan's Muslim faith and connections with American-born Al Qaeda operative Anwar al-Awlaki, who was killed in a U.S.-led drone strike last year, led many to believe that he massacre was an "act of terror."
Munley told ABC News Tuesday night, "Betrayal would be a good word, not to the least little bit have the victims been taken care of. In fact, they've been neglected very badly." Due to the designation by the administration, victims are being denied purple hearts and other health and financial benefits.
To discuss the issue, Kelly brought in Fox News contributors Monica Crowley and Kirsten Powers.
Crowley, calling this a "sad and outrageous story," said she found the "workplace violence" designation "patently absurd" due to Hasan's "radicalized" Muslim behavior leading up to the attack.
For her part, Powers couldn't "square" the administration's reluctance to call the Fort Hood attack terrorism, while at the same time justifying killing American citizen al-Awlaki in a drone strike. "They have no problem calling him a terrorist and killing him," Powers said of al-Awlaki, "but now calling this person a terrorist in the Fort Hood attack would make it a foreign terrorist attack? I mean, they've just completely lost me on this one."
Responding to Crowley's assertions about Hasan's Muslim behavior as justification for labeling his actions terrorism, Powers disagreed saying, "it's possible that somebody could behave that way and be kind of a nut-job. What makes this clearly a terrorist attack he was in communication with the Anwar al-Awlaki, who the president thinks he's enough of a terrorist that he killed him without due process. So, to me it's an open and shut case."
Answering Kelly's question about why the president is hesitant to call Hasan's actions terrorism, Crowley said she thought there's some "politics" involved. Noting the administration's desire to show that Al Qaeda is on the decline, she said "to have this kind of terrorist attack happen on U.S. soil, that kind of destroys the narrative… There is a real reticence on the part this have administration to call radical Islam by its name."
In the end, Powers went so far as to say the government is "complicit" in the attack for allowing Hasan to continue work on the base after they knew he had been in touch with al-Awlaki. "They bear direct responsibility for what happened and for those people that were killed."
Watch video below, via Fox News:
—
>> Follow Matt Wilstein (@TheMattWilstein) on Twitter
Have a tip we should know? tips@mediaite.com