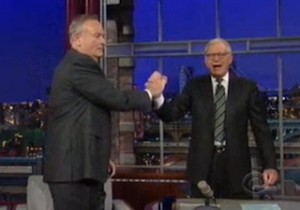 Bill O'Reilly appeared on David Letterman ostensibly to promote his new book Killing Lincoln, but the conversation turned to a variety of items in the news:Occupy Wall Street, The Tea Party Movement and $16 muffins all got some airtime in a spirited and light back-and-forth. But the most tense part of the exchange was a surprisingly dramatic high-five between the two influential television personalities who have not always seen eye-to-eye, but put aside any previous tension for a symbolic demonstration of agreement. The harmonic convergence is now upon us!
RELATED: Bill O'Reilly Spars With Tavis Smiley And Cornel West Over Wall Street Corruption
Are O'Reilly and Letterman arch enemies? Of course not. But in O'Reilly's ongoing description of what he calls the "culture wars" he has often mentioned Letterman as an example of a different side than his self-described "traditionalist" movement, and in last night's interview, it seemed that both were genuinely happy to chat with one another, as the conversation was spirited though affable.
RELATED: David Letterman And Bill O'Reilly Talk The View, Palin's Prospects, And Whether Or Not We Can Still Blame Bush
After the two agreed on wasteful spending by the Government, especially with regards to what now both saw as an unjustified decision to go into Iraq, Letterman raised his hand for an agreeable high-five. O'Reilly, playing the part of the comically curmudgeon, first left Letterman hanging, even sort of dissing his host by telling him to "sit down!" Fortunately for us, O'Reilly eventually relented and gave Letterman a meaningful hand-slap, after which Lettterman called O'Reilly a grouch.
Watch the entertaining segment below, courtesy of CBS:
Have a tip we should know? tips@mediaite.com