Worst Booking Ever? Parker Spitzer Talk State Dinner With WH Party Crashing Salahis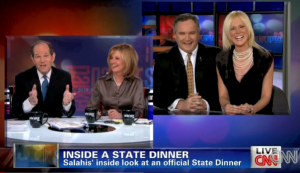 No, this is not Bravo's Watch What Happens Live. At least, I don't think so. I'm fairly sure I was watching the somewhat more serious Parker Spitzer on CNN. And yet, how to explain the presence of Tareq and Michaele Salahi, the reality TV couple who jumped to "fame" by crashing President Obama's first state dinner.

Parker Spitzer, if you haven't watched CNN's struggling 8 p.m. show, fancies itself–at least I thought it did–as a bit of a smart person's show, usually booking guests who not only have never appeared on any of the Real Housewives shows, but have also never watched any of the Real Housewives shows. Last night, for instance, co-hosts Eliot Spitzer and Kathleen Parker sat around their table talking China with Jeffrey Sachs, director of the Earth Institute (and one of TIME's 100 most influential leaders) and Nina Hachigian of the Center for American Progress.
You expect to see guests like this on Parker Spitzer. And you expect to hear Parker and Spitzer engage smarty-pants people on topics like global trade. You don't expect them to find out whether or not one of the Real Housewives of DC has cut her hair (she had, and pivoted her head to show viewers the back), which is one of the excruciating details viewers were forced to learn during the Parker Spitzer conversation with the Salahis.
Booked to talk about the White House state dinner for Hu Jintao–apparently because nobody else with state dinner experience was available (for God's sake, couldn't they have just dialed up Wolf Blitzer?)–the Salahis were given time to talk about themselves, to again deny they ever "crashed" the White House, and to raise serious questions about Parker Spitzer.
Judging by the comments on the Parker Spitzer blog, viewers who expect Jeffrey Sachs and Nina Hachigian were stunned to see Tareq and Michaele Salahi, with many asking how a show that could host the first segment could also host the second. Would any viewer happy to see the Salahis be able to stomach five seconds of arcane chat on the political impact of global trade deals? And would anyone who finds intelligent chat refreshing be able to handle even five seconds of the giggly back-and-forth with the Salahis? (At one point, Parker said she had a degree in wine drinking, and asked–twice–whether the Salahis' offer that she visit their winery was "a real offer.")
Insiders say the booking was only meant to be tongue-in-cheek, and not a standard Parker Spitzer segment. But it's clear viewers have a sense of ownership of P/S and didn't find the presence of the Salahis funny. The word "disappointed" came up repeatedly in comments on the show's blog.
As an SNL skit, it would've worked. On a lighter, less serious show, it could've worked. As a segment on Parker Spitzer, it was painful to watch. What's next? Snooki?
Watch the segment here, from CNN:
Have a tip we should know? tips@mediaite.com