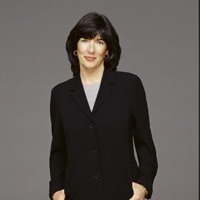 In a surprise move, FishbowlDC is reporting longtime CNN anchor and foreign correspondent Christiane Amanpour has been offered the ABC Sunday morning show This Week anchor job. She was initially thrown into the mix for the vacant role earlier this month.
But thel hiring of Amanpour would signal a major direction shift for the future of This Week.
ABC and CNN weren't confirming, but FBDC reports the offer has been made. But what happens if she takes the job?
[Amanpour told her] CNN colleagues that ABC News has offered her the job of "This Week" host and she is telling people that she might take it. As of this moment she is declaring a 50-50 chance that she's going to accept the offer.

Amanpour said she wants to make "This Week" more about foreign affairs and less focused on domestic American politics…If she takes the post, sources say this would be a complete remaking on the show, a program much more focused on international affairs.
That would be a major departure from the current political focus. Politico's Michael Calderone reports the genesis for the Amanpour-hosting-This Week idea may have come from above the ABC News ranks:
There's been speculation inside the network that Amanpour is a favorite of some West Coast executives, as well as, Bob Iger, chief executive of ABC-parent Disney, and Willow Bay, his wife. Their influence, said a source, may have helped get her in the mix.
We hear this would not be the first time ABC News has pursued Amanpour, although not necessarily for the This Week job. And it's not like international news is foreign to This Week – George Stephanopoulos conducted interviews with foreign leaders during his time with the program. But Stephanopoulos was certainly most known for his inside-Washington, politics chops.
And the show, since he has left, has remained largely the same in tone. As Terry Moran and Jake Tapper were largely seen as the favorites for the role, they have guest anchored the program several times each. Others like Jonathan Karl and Elizabeth Vargas have kept with the show's political focus as well. If ABC News execs were really thinking to go the foreign affairs route prior to the ABC-Disney execs suggestion, it would have made sense to see correspondents/anchors like Martha Raddatz or Bob Woodruff fill in for a week.
The months of speculation appear to be, potentially, winding down. If Amanpour takes the job, we'll have the final piece to the ABC News anchor puzzle. But the next question is – what does it mean for the show?
—–
» Follow Steve Krakauer on Twitter
Have a tip we should know? tips@mediaite.com