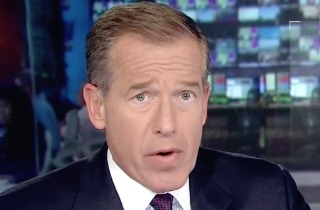 It's official as of Friday morning: NBC News is bringing back Andrew Lack as chairman of NBC News, replacing Pat Fili-Krushel who had been in the role since the summer of 2012.
Before Lack was officially brought on board, a media narrative had emerged: Because the well-known exec is good friends with beleaguered anchor Brian Williams, Lack's return to NBC could secure Williams' return to air.
But we're a bit skeptical.
Citing "current and former high-level NBC News staff," Politico media reporter Dylan Byers wrote that because Lack (who served as NBC News chief from 1993-2001) is a close friend responsible for Williams getting the Nightly News gig 10 years ago, the former exec's return "should be taken as a near-guarantee that NBC would move to reinstate Williams as anchor."
The New York Post struck a similar tone:
"Andy Lack wouldn't come back without Brian," said a source friendly with both executives.

"This is all about saving Brian," the source added. "It is a sign how troubled things are [at NBC] that [Lack] is returning."
According to our own sources at NBC, there is much reason to be skeptical that Lack's re-hiring would pave the way for a Williams return. Whether or not Lack and Williams are good friends is ultimately irrelevant, said one source, because it could be a disastrous first big decision in Lack's homecoming.
-RELATED: 12K+ Respond to Mediaite's Brian Williams Poll, Over 70% Think He Should Be Fired
More important, perhaps, is the fact that Burke is the ultimate decider on Williams' fate.
The New York Daily News shares our skepticism, citing its own sources who say "Andy may try and push for Williams to return or shorten his suspension, but that is going to be a tough sell — even for him."
Indeed, the prevalent story around 30 Rock, our sources tell us, is that while consulting Burke on the initial Williams punishment, Lack pushed for a shorter 3-month suspension while others pushed (successfully) for the 6-month deal. But there are plenty of factors involved, beyond whether Lack and Williams are friends: The anchor's Q Score has taken a dive since the scandal broke; and other data show him suffering on "celebrity trustworthiness" indexes.
None of this is to say a Williams return is impossible. It could ultimately happen — but, for now, we remain skeptical.
— —
>> Follow Andrew Kirell (@AndrewKirell) on Twitter
Have a tip we should know? tips@mediaite.com