George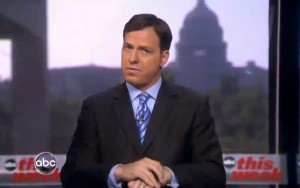 Stephanopoulos' move to Good Morning America has left open the plum assignment of Sunday morning talk-show host. The This Week gig is not just a big break for the eventual host, but a real opportunity for ABC News to break NBC's ratings stranglehold on Sunday mornings.
On a very short list of rumored Stephanopoulos replacements sits ABC News Senior White House Correspondent Jake Tapper. While he has been tight-lipped about the job, I think Tapper would be an inspired choice.But don't just take my word for it.
On the political web, Tapper has become a lightning rod of sorts, with people on both sides of the spectrum working the ref. Soon after his ascension to the White House job, he earned praise from Rush Limbaugh, which doubtless put a lot of liberals on guard. Within days, he also incurred the ire of then-Governor Sarah Palin's staff for calling her out on earmark hypocrisy, but that didn't get quite the same traction.
It's this hard-boiled skepticism that tilts against moving Jake from the White House beat. As Hot Air's Ed Morrissey points out, Sunday morning's gain means the press corps' loss: (via email)
I would definitely watch Jake Tapper hosting This Week, as he has established himself as a reporter that asks tough questions of all sides. I would be sorry to lose him from the White House press corps, where Tapper usually takes the lead in demanding answers to questions the Obama administration wants to ignore. If ABC offers him the position, they will have chosen very wisely indeed.
It's an excellent point. While he's not the only TV reporter who asks smart, tough questions, he's the one with the widest audience. With the Obama administration facing increasing scrutiny from the left as well as the right, a consummate skeptic is more valuable than ever in the press corps.
On the other hand, This Week would give Jake a chance to turn that Eye of Mordor on political operatives from both sides of the aisle (including administration officials) on a weekly basis.
I asked Salon's Glenn Greenwald what he thought of a Tapper-helmed This Week, and here's what he said:
I would watch.  I think Tapper is one of the very few establishment journalists who has a demonstrated ability to question political leaders of both parties in a very adversarial yet still fair manner.  He's one of the few journalists, especially on television, respected across the political spectrum.  And he has a tenacity and relentlessness that Sunday morning needs much more of.
For my money, the "dueling surrogates" segments are the most deadly-dull on all of the Sunday shows, with party flacks exchanging talking points, and not much else. Tapper excels at throwing Robert Gibbs off-message, no easy trick with the most on-message Democratic operation in memory. I imagine he'd have no trouble coaxing something YouTube-worthy from the Tim Kaines and Lindsey Grahams of the world.
Tony Fratto, Deputy Press Secretary under George W. Bush, never had to face Jake in the briefing room, but has seen his fair share of White House correspondents. He also thinks Tapper has what it takes:
"I think Jake would do a great job.  George had unique insight from having worked in a White House and in Congress and politics, and there aren't many reporters who can match that.  But Jake is an excellent reporter, he's more fun and interesting that what most Americans see on the evening news, and he has a strong enough personality to carry a show."
One of the biggest knocks on TV news personalities is a genial blandness that can sap the energy from a show like This Week. There's little danger of that with Tapper, who manages to put his personality into his work without corrupting his reporting.
The Huffington Post's Jason Linkins is no fan of the Sunday morning shows he gets paid to watch, but he identifies an area that really sets Jake apart.
I saw Jake host (This Week) once, and I thought he did pretty well. You know, Jake's been one of those open-source types, finding the time to contribute to Political Punch and his own Twitter account while reporting. He's part of this group of correspondents who go abroad with the President, and tweet real-time news and color from everywhere on the globe. I really like that! It feels very personal. It'd be great if Jake, if he became steward of that show, could come at it with the intent to jailbreak that format somehow. The whole Sunday morning game is ripe for an innovation, some kind of code-breaking.
Bingo. In the brave new media world, I can't think of a legacy journalist who has more effectively integrated tools like blogs and Twitter as effectively as Jake Tapper has. The level of engagement he achieves with his audience on Twitter is unparalleled. Given input on the production of the show, there's no telling how he would translate this to the Sunday morning format (if nothing else, the weekly gig would give him more time to tweet). Other news shows have taken token stabs at this kind of interactivity, but the result usually seems shoe-horned.
Finally, he brings all of this with him to the obligatory panel segment, frequent birthplace of unchallenged meme-building. During a guest-hosting stint in August, Tapper did a good job keeping former Bush adviser Ed Gillespie honest about death panels:
Making Jake Tapper the next host of This Week could easily be a Sunday morning game-changer. If you're a political partisan, Jake Tapper is the last person you want questioning your guy, which makes him the perfect candidate for a job that requires, of everyone, a turn in the hot seat.
Have a tip we should know? tips@mediaite.com