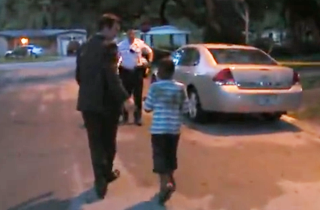 While WFTS-TV reporter Cameron Polom was filing a segment about a missing Tampa boy, he ran into something he didn't expect: the missing boy himself.
Paul Ezekial Fagan, 10, had been missing for 14 hours when Polom found him hiding in some bushes near his grandmother's house at 7 AM last Friday. The Hillsborough County Sheriff's Office had been searching for Fagan last night with the help of search dogs and helicopters, to no avail.
"He's looking at me and I'm thinking, 'Could this possibly be this kid? Is this really happening?' It was a very surreal moment," he told TODAY.com. "When I saw him, he looked not only tired, but he looked scared he might be in trouble. He's 10 years old and he's a smart kid — he knew he was in a little bit of trouble for what he had done."
Polom took Fagan to some cops nearby, with cameras rolling, and reunited him with his grandmother and family.
According to Fagan, he'd wandered away from his family to get away from his little brother, who was cramping his style, and had spent the night in the backyard taking what he called a "cat nap," which, awwwwwww.
Watch below via WFTS-TV:
[h/t Today]
[Image via screenshot]
— —
>> Follow Tina Nguyen (@Tina_Nguyen) on Twitter
Have a tip we should know? tips@mediaite.com