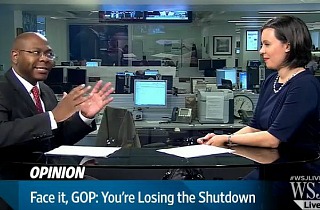 Wall Street Journal's Political Diary editor Jason Riley has a message for Republicans in Congress: face it, you're losing. In an interview with WSJ Live host and editorial board member Mary Kissel on Wednesday, Riley said that the GOP is in "denial" over the fact that they are losing the public relations war over the government shutdown.

Riley cited a recent ABC News/Washington Post poll which showed that the public is blaming Republicans in Congress far more than their Democratic colleagues or President Barack Obama for the government shutdown.
"I think Republicans are in denial about these results because these polls have been consistent," Riley said. "They were consistent during the last government shutdown and they've been consistent leading up to this government shutdown, Mary."
"And it's also very odd," Kissel added, "because it's leading Republicans, I think, to vote for things that they don't support."
RELATED: Gallup: GOP's Favorabilitiy Rating Reaches Record Low
"That is, I think, how they know, in their heart of hearts, that they are losing the PR campaign," Riley agreed. He said that many of the stopgap funding measures the GOP has passed in the House allocates funds to programs they oppose.
"They're funding Head Start, Mary. Republicans regularly rail against this program for pre-school kids as a joke," Riley exclaimed. "It doesn't work, but here they are funding it because the Democrats are trotting out kids."
He cited a number of programs the GOP is funding in order to mitigate the damage to their brand caused by the shutdown. "I think Republicans know they're losing this debate," Riley added. "This is desperation and Republics need to cut their losses."
Watch the segment below via WSJ Live:
[Photo via screen grab]
— —
> >Follow Noah Rothman (@NoahCRothman) on Twitter
Have a tip we should know? tips@mediaite.com