WSJ Editors: If 'Millennials Had Been Reading Our Editorials,' Obama 'Would Have Lost the Election'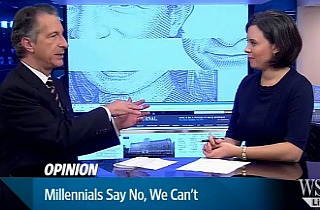 Two members of the Wall Street Journal marveled at the findings of a recent poll of the millennial generation, which found that young people had grown remarkably skeptical of the Affordable Care Act and mistrustful of President Barack Obama. The editors remarked that young people who have been surprised at the events of the last eight weeks would have known about how they were being targeted by the ACA years in advance if they regularly read the Journal's editorial page.

Wall Street Journal Live host and editorial board member Mary Kissel cited the findings of a recent Harvard University poll that found millennials are souring on Obama and would even support recalling him from office.
"I guess, for the millennials, it's been a real learning experience," WSJ columnist Dan Henninger said of the first two months of the ACA's implementation. "Welcome to the world of health care and welcome to the world of politics especially."
RELATED: Harvard Poll: Millennials Abandon Obamacare, Would Vote to 'Recall' Obama
Hennigner said that young people are only now learning that they are going to be required to get health coverage and pay higher premiums in order to subsidize the coverage of older people who require more care. "This is an ideological component of the law," Hennigner observed.
"Barack Obama did not say this before the election," he added, "and I think this is kind of a bait-and-switch problem that he has."
"We've been writing about this for years," Kissel replied. "It wasn't that the information wasn't out there. Why weren't the youth paying attention?"
"If these millennials had been reading our editorials, he probably would have lost the election," Henninger observed. He noted that Obama "broke his word" and young people are repelled by dishonesty.
Watch the segment below via WSJ Live:
[Photo via screen grab ]
— —
> >Follow Noah Rothman (@NoahCRothman) on Twitter
Have a tip we should know? tips@mediaite.com