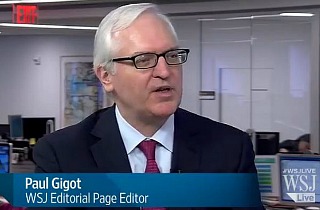 Paul Gigot, the Wall Street Journal's editorial page editor, told WSJ Live host and editorial board member Mary Kissel that the Heritage Foundation is misguided in their opposition to the repeal of the medical device tax within the Affordable Care Act. He identified a strain of "economic nonsense" creeping into the consciousness of the right as they become "disoriented" by the failure of the effort to defund or delay the Affordable Care Act.

The Heritage Foundation has gone on the record opposing the repeal of the medical device tax within the ACA. "Go figure," Gigot replied when asked why this is the case.
"The political strategy is that they don't want any changes in Obamacare that improve Obamacare because they think that it reduces the coalition – the size of the coalition for total repeal," Gigot continues. "They're also focused as part of this debate on defunding and delaying Obamacare, and they think that just repealing a punitive tax like this is small beer."
RELATED: Harry Reid Goofs: Calls Tax In Obamacare 'Stupid'
"The corporate cronyism argument is nonsense," he added when Kissel suggested that the repeal of that tax on medical device manufacturers amounts to corporate welfare.
"There's a lot of economic nonsense that is creeping into the right as they get to be so disoriented as part of this debate," Gigot observed.
He said that this tax on revenue, not profits, will stifle innovation in the medical device industry and it will negatively affect smaller manufactures.
Kissel observed that even Sen. Elizabeth Warren (D-MA) opposes this tax, though Gigot pointed out that many of these manufacturers which will be hardest hit are located in Massachusetts.
Watch the clip below via WSJ Live:
[Photo via screen grab]
— —
> >Follow Noah Rothman (@NoahCRothman) on Twitter
Have a tip we should know? [email protected]