WWE Invites Glenn Beck On Monday Night RAW To Address 'Tea Party Villain' Controversy — Did He Accept?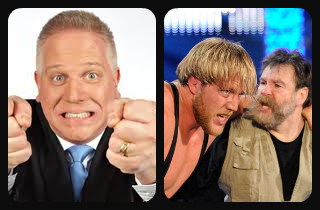 After Glenn Beck blasted the "stupid wrestling people" at WWE for their controversial "racist Tea Party" Jack Swagger® and Zeb Colter® characters, the pro wrestling organization has invited the conservative radio host to appear on next week's Monday Night RAW and address the sport face-to-face.
"WWE is giving Beck the opportunity to address our 14 million weekly viewers and our global fan base, as he believes we are offending our 'conservative' fans with this storyline," the wrestling organization's invitation-via-press-release reads.
They go on to explain the rationale for painting Swagger and Colter as right-wing "nutjobs" and pitting him against a Mexican hero for the "heavyweight championship":
Similar to other television shows and feature films, WWE is in the entertainment business, creating fictional characters that serve as protagonists or antagonists. To create compelling and relevant content for our audience, it is important to incorporate current events into our storylines. WWE is creating a rivalry centered on a topical subject that has varying points of view. This storyline was developed to build the Mexican American character Del Rio into a hero given WWE's large Latino base, which represents 20 percent of our audience.
So… did Beck accept the invitation? Time will tell.
But let's all take some time to pray to the Gods of Television tonight because HOLY HELL that would be awesome TV.
UPDATE: Beck has released an official response to the WWE's invitation. And it's pretty awesome:
"Unfortunately I am currently booked doing anything else."
Watch Beck's segment on the WWE controversy below, via TheBlaze TV:
— —
>> Follow Andrew Kirell (@AndrewKirell) on Twitter
Have a tip we should know? tips@mediaite.com