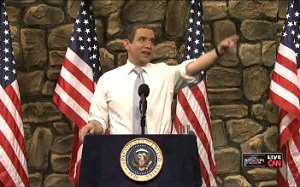 This week's Saturday Night Live cold-open featured a parody of Fox News' morning infotainment offering Fox and Friends, but according to Tucker Carlson's Daily Caller, that wasn't always the plan. Someone leaked a script for an alternate opener, in which Fred Armisen's President Obama addresses the nation about the anniversary of the raid that killed Osama bin Laden. Although The DC says it's "unclear" why the sketch was cut, leaking it to an anti-Obama website sends a pretty clear message: time for another round of election-year fine whine about the long-running comedy show.
The 2008 election saw a resurgence in Saturday Night Live's cultural relevance, but along with it came charges of bias from supporters of all three major presidential candidates: then-Senators Barack Obama, Hillary Clinton, and John McCain. The show was even a focal point of John Ziegler's pro-Palin film Media Malpractice, in which he somehow managed to accuse the show of dueling biases.
Coincidentally, several such lightning-rod sketches during the 2008 campaign was penned by Jim Downey, who also wrote the script that was leaked to The Daily Caller. In 2008, former SNL head writer Adam McKay accused Downey of a stealth Republican pro-Hillary bias on The Huffington Post:
Even Ann Coulter pal and SNL sketch writer Jim Downey has written several sketches portraying Hillary as picked on by the press. Downey is one of the all time great sketch writers but I know he's no Hillary fan. Don't get me wrong, I like Hillary and still think Bill Clinton is one of our great presidents. But it's weird. Weird like….well, Pat Buchanan praising Hillary Clinton.

…(SNL has) had its left wing writers like Al Franken and it's right-wing writers like Jim Downey, who also wrote those Bush-Gore debates sketches. Franken is now running for the Senate and Downey is spinning primaries.
Downey, though, told The New York Times, at the time, that he actually favored Barack Obama over Hillary Clinton, and would vote for him if he were the eventual nominee.
Now that Downey's anti-Obama sketch has been pulled and leaked to an anti-Obama website, we can expect more bleating about a pro-Obama bias at SNL, and despite The Daily Caller's protestations that "It is not clear why the skit was scrapped," whoever leaked it to them obviously did so for a reason, and The Daily Caller's Gregg Re, who is not an entertainment reporter, obviously wrote about it for a reason.
However, what Downey said in 2008 about such accusations probably still holds true today. Asked if the show had a pro-Hillary bias, Downey said "I'm just trying to make the sketches funny."
The sketch that was allegedly pulled from this past weekend's show simply wasn't funny, and while regular viewers of SNL know that doesn't always keep a sketch off the air, this script's premise had already been done by the show, and done better, in the aftermath of the actual bin Laden raid. Here it is, in case you missed it:
Have a tip we should know? tips@mediaite.com