Yankees GM On Fox & Friends: Way Too Close A Connection For Gretchen Carlson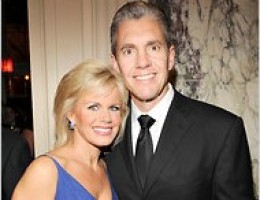 The New York Yankees and its All-Star Derek Jeter were the topic of conversation this morning on Fox & Friends, as Yankee GM Brian Cashman was a guest participant in a standard, fun morning show segment. What was unique about this segment, however, was that co-host Gretchen Carlson was no where near the segment, unlike an interview she did with Jeter nearly one year ago to the day in which she failed to disclose that her husband was Jeter's agent. Given her absence from this segment, its rather clear that her earlier transgression didn't go over very well last year.
Here's what happend: This morning on Fox & Friends, weatherman Rick Reichmuth somehow found himself rappelling down the Landmark building in Stamford, CT with Yankees GM Brian Cashman of all people, in an apparent promotion of Stamford's Heights & Lights event which F&F was broadcasting live from. (Apparently Cashman was in tow as a celebrity guest elf and is a resident of nearby Darien.) A fun segment to be sure, but much more notable for who was not included in the segment? That would be one Gretchen Carlson, whose husband is Casey Close, also known as Derek Jeter's agent who happens to be badly losing the current PR battle for his client.
A recent NY Post poll shows that 72% of New Yorkers overwhelmingly favor the NY Yankees' current offer to Jeter, and think Jeter (and his agent) are acting as as, well, greedy pigs. The Cashman interview was left to Fox & Friends co-host Steve Doocy and and fill-in Peter Johnson, Jr. Ms. Carlson was nowhere to be seen. Awkward!
The "Close" connection is something Carlson infamously failed to mention nearly a year to the day when she tossed softballs Jeter's way during a glowing sit-down interview with the Yankees star. That mishap will go down as one of the most embarrassing episodes of Carlson's career, though there are certainly plenty of instances from which to choose.
It's clear Carlson was admonished for this internally given she had nothing to do with today's segment. A pretty embarrassing moment and even more embarrassing for her husband to have to hear Brian Cashman say Jeter's negotiations were "the last thing on his mind right now," only to later add playfully with a twinkle in his eye that he "wants to get this deal done." All taking place on Close's wife's network no less, and all while Cashman has major leverage over Jeter right now.
Another fun tidbit? Carlson and her husband Close live in nearby Greenwich, CT, not far from Cashman in Darien. Perhaps the Close's should avoid the local bagel shop this Sunday to avoid further embarrassment?
Have a tip we should know? tips@mediaite.com