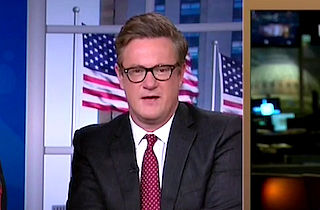 Earlier this year, Joe Scarborough denied reports that he'd been angling for the host's chair at Meet the Press when rumors mushroomed about David Gregory's fate. His Twitter denial left no room for interpretation — which is why, of course, this Washingtonian article claims that he was totally gunning for it.
In their article charting Gregory's rise and demeaning fall as MTP's moderator, the Washingtonian mentions that Scarborough had been after Gregory's seat for years, citing numerous MSNBC and MBC employees. "Scarborough is known as a prima donna who doesn't respond well to 'no,'" they wrote, though they noted that he would have faced an unhappy staff;
When Gregory was in the hot seat, some thought Scarborough reached for the knives. And the staff wouldn't have welcomed him in the moderator's chair. In 2012, NBC executives had given Scarborough a shot at guest-hosting Meet the Press in Gregory's absence, according to sources. But the network's news division protested. Republican presidential hopeful Rick Santorum was booked for that week's show, and letting Scarborough interview a fellow conservative would undercut the franchise's nonpartisan bona fides. As a compromise, Savannah Guthrie moderated and Scarborough led the roundtable.
And, allegedly, Scarborough decided to take an alternative route to Meet The Press
In 2013, the New York Post had reported that Scarborough was in discussions with NBC about taking over the Sunday edition of Today, which airs before Meet the Press in some markets. The move would have put Scarborough and Gregory in direct competition for guests and provided the MSNBC host with a springboard to take over Gregory's show. NBC declined to have Scarborough comment; in a July tweet, he denied having angled for the job.
The rest is history: Chuck Todd became moderator, Scarborough did not, and poor Gregory got totally screwed.
[The Washingtonian]
[Image via screenshot/MSNBC]
— —
>> Follow Tina Nguyen (@Tina_Nguyen) on Twitter
Have a tip we should know? [email protected]