'Yelling at People Is Kinda Boring': Kennedy on Her New Show and the State of Cable News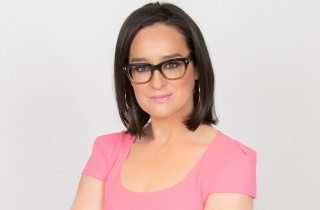 Following the cancellation of Fox Business Network's The Independents, its libertarian host Kennedy re-emerged Monday with an eponymous nightly show on the same network. The show promises a quirky blend of politics, sports, music (Kennedy's a former MTV VJ), and allusions to hilarious nights of binge-drinking with other political pundits.
Kennedy sat down with Mediaite for a quick Q&A on what she learned from her first political show experience, what she hopes Kennedy will accomplish, and why libertarianism is growing considerably, especially on cable news.
Enjoy below:
—
Since Mediaite's readership is full of people who religiously watch cable news, explain to them why your new show is awesome and they should watch it.
It's awesome because it's got a lot of lively interesting conversation, and it's liberty-minded. It's whatever your favorite things were about the '90s — we concentrate them all in one place.
So basically it's a big melting pot of Gen-X sentiment and "libertarianism is awesome"? So it's not just a bunch of people who are gold hoarders [a popular libertarian stereotype]?
Uh, I love gold hoarders. I love survivalists. But you don't have to hoard gold to love the show. That's the nice thing about it. If you hoard gold, you'll be delighted. And if you're a fan of other precious metals or paper currency, you'll be equally happy. If your mom's best friends love shiny things, they'll be right at home.
The new show has a similar vibe to E!'s The Soup, mostly because you riff on all these things happening in the news, with a deadpan sort of mockery. Is that intentional?
Well, there was no Soup discussion when we were putting the show together, but I do love Joel McHale. I've been a fan of his for a long time. I love his delivery, I adore his acting. I think he's really good. But what we've been trying to do is be true to ourselves and let the rest follow.
And part of that, obviously, is the libertarian arc. I know you've had the benefit of being on two libertarian-leaning shows — first The Independents and now Kennedy. Do you think there's hope for more libertarian shows in the future, and do you think those kinds of shows could bring that philosophy to a wider audience?
Yeah, absolutely, I do. I think more people are looking for other, better options, and that libertarianism is a really nice fit for people who use their brains, and who want to party and think all at the same time.
So there's this one recurring segment on the show called "You're Crazy, Kennedy!" You invite two other people on the show to tell you exactly how and why you have a position they consider crazy. Something like that on any other cable news show typically results in a shout-fest (and then we'd turn that into a clip and get millions of clicks). How do you plan to avoid that cable news trope?
What, just yelling at people? Well, yelling at people is kind of boring. I think there are better ways of disagreeing with people. I like the idea of two-on-one, and I think it's okay to go after people's opinions, but everyone I have on that segment, I genuinely like. There's no hard feelings.
How boring would it be if you were friends with just people you agreed with? It's actually okay to disagree with people. I think it's really healthy.
So you want to avoid the echo chamber?
You know, that was one of the things our audience noticed about The Independents. Sometimes you had five people sitting around agreeing with each other. It can get boring. A little disagreement never hurt anyone.
But at the same time, it shouldn't get too antagonistic?
I actually like it when people who should agree with each other end up disagreeing and get antagonistic. That's the kind of thing that's interesting to me.
So you have a deep background in music and, as you said before, that will play a role in the new show. Who are your dream music-related bookings for this show?
It's funny, I've been in radio for so long that I've been able to interview all these people that I enjoy so much, but I'd love to interview them in this new context. I'd go with Danger Mouse and James Mercer from Broken Bells. I'd like to interview Jack White. Oh, and I'd like to interview Calvin Harris.
And your dream political bookings?
I've actually had one of my favorite political guests on this week!
I've been trying to interview Sen. Rand Paul forever, and he finally came on. It was a really satisfying discussion, and I was so excited to talk about stuff and I definitely wanted to continue the discussion. Hopefully we'll do more.
The new show is also going to have a lot of on-the-street segments. What kind of fun are you planning with that?
The man-on-the-street stuff is so good because it brings a lot of unpredictability as to how people are going to react — particularly with what kind of stuff I run around and bother people about. I love doing those segments.
The thing is, every time we do a man on the street segment — which we call "Kaywalking" — someone tells me to go eff myself. But it's still very fun.
So what's your ultimate goal with Kennedy? If you look back five, 10, 20 years from now, what do you hope it's accomplished?
I hope that it gets people to think about some of the issues that they don't know answers for. I hope that it gets people interested in limited government and to also realize that, even if they're very serious about politics, they can have a good time, talk about pop culture, and have a really well-rounded TV interface, as in the way they interface with television.
That's a big challenge for cable news these days: Trying to woo younger viewers. Do you think your show offers something for Millennials who might pass through the cable world?
I think that if you put out an honest product, and you're true to who you are, then people will want to watch it. Though I know a lot of Millennials are cord-cutters, so hopefully they'll find a way to their parents' house to watch the show.
Well, streaming is the future.
I also hope they stream it. I hope they stream it and streak, all at the same time. It's multitasking, but when we've got Wi-Fi on every corner of the world, I think people will be able to engage completely.
—
Kennedy airs M-F at 10 p.m. ET on the Fox Business Network.
[Image via Fox Business Network]
— —
>> Follow Tina Nguyen (@Tina_Nguyen) on Twitter
Have a tip we should know? tips@mediaite.com