Yes, Rachel Jeantel Did Think It Was 'Racist' When Rush Limbaugh Said 'N*gga'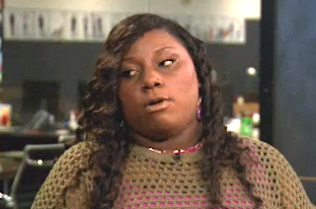 Trayvon Martin's friend and witness for the prosecution in the George Zimmerman trial Rachel Jeantel got an opportunity to respond directly to Rush Limbaugh during an extended interview with Marc Lamont Hill on HuffPost Live Wednesday morning. Despite Limbaugh's insistence that he now his Jeantel's permission to say "nigga" with an "a," Jeantel said the conservative radio host's comments did "feel racist" to her.
In her first major interview since the Zimmerman trial ended, Jeantel explained to Piers Morgan Monday night the difference between "nigger" with an "-er," which she said is a "racist" word and "nigga" with an "a," which she said in her generation means just means any "male." Tuesday, Limbaugh used Jeantel's explanation as an excuse to use the "non-racist" version of the word on his radio show, saying, "I think can [say it] now, isn't that the point? Because it's not racist."
HuffPost Live's Hill played the Limbaugh clip for Jeantel and asked her to respond. When he first asked her if she knew who Limbaugh is, Jeantel replied, "No, who's that?" After listening to the clip, she said, "When you say it out loud in person in front of people, that's disrespectful," she said, adding, "It is racist for an adult."
Hill attempted to get some clarification from Jeantel, asking, "Does it matter whether the adult is black or white?"
"Yes!" Jeantel replied, with little hesitation.
"When you heard Rush Limbaugh say it just then, did it feel racist to you?" Hill asked.
"Well, yes," Jeantel said. "But I can't judge him."
"It felt racist to me too," Hill responded.
Watch video below, via HuffPost Live:
And, in case you missed it, watch the original Limbaugh clip below:
—
>> Follow Matt Wilstein (@TheMattWilstein) on Twitter
Have a tip we should know? tips@mediaite.com