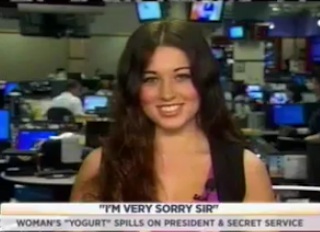 On Wednesday, NBC's The Today Show nabbed an interview with Kolbi Zerbest, the University of Colorado freshman "at the center of yogurt-gate" who accidentally spilled yogurt all over President Obama.
"This all seemed like it started really well," Matt Lauer observed. "You were in the right place at the right time. You got to get up close and personal with the president. And then it took a kind of messy turn. What happened?"
RELATED: Girl Spills Yogurt On Obama, He Says 'Getting Yogurt On The President, You've Got A Story To Tell'
"Well, basically, Secret Service brought us a little bit closer to where President Obama was supposed to be coming out of the restaurant," Zerbest explained, "and so, we were just waiting there patiently, and then he came down this line of people, and we knew we were going to be pretty like — we were pretty close so we knew we'd eventually get to shake his hand. And so I think as he comes towards us a little bit more, paparazzi come rushing behind us and right as I'm shaking his hand the paparazzi kicks the bowl that I had placed on the ground onto the President. And it was mine, so, obviously I took the blame for it."
Ann Curry commended the college freshman for being upfront and taking the blame for the spill.
"Technically it was my fault that I'd placed it there. But, I mean, I'm not the one who spilled it on him or kicked it on him, as some of the stories have been told. So, yeah," she explained.
Suddenly, the light interview took a sharp turn towards the clinical, as Curry pressed the girl about how much dairy product actually spilled upon the Commander-in-Chief.
"It's hard to see from the video tape but just how much yogurt got on the President?" she asked.
"It wasn't a lot. Honestly, more of it got on me, the ground, and on the Secret Service. So — it got on his trousers a little bit, though," the girl acknowledged.
Watch "yogurt girl" dish on the incident below via NBC:
Have a tip we should know? tips@mediaite.com