'You Can Worship Whatever Bullsh*t You Want, But…' Maher Rips 'Arrogance' Of People Who Want A 'National Religion'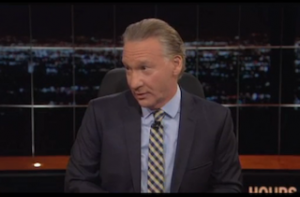 Friday night on Real Time, Bill Maher dug up the quote that threatened to derail then-candidate Barack Obama's presidential campaign in 2008: "People get bitter and they cling to their guns and their religion." Maher joked, "Boy, he was way off on that." This led to a discussion about a recent poll that shows nearly one-third of Americans in support of establishing Christianity as an official national religion.
Guest Bob Costas jumped into the fray first, asking, "Isn't in interesting the people who tend to be so staunchly in favor of states' rights want a national religion?" He joked that if we are going to go with official religions, we might as well keep it at the state level, with Utah going Mormon, Arizona worshiping the "sun god" and California opting for "paganism."
"It's so rude," Maher said. "You can worship whatever bullshit you want, but let's make it official? The arrogance of religion really pisses me off." He continued his criticism of the left by suggesting that Democrats are "not really helping" on this issue. "I would like to see one party be the pro-secular party," Maher added.
Despite Obama's prior acknowledgment that some people "cling" to their religion, Maher said he was not "reassured" by the president's professed religious faith. "They always say, in a crisis I would pray," he said. "Oh good, I'm glad you would try to talk to your imaginary friend."
When former GOP Rep. David Stockman suggested that Washington, Adams and Jefferson "didn't even have a faith," Maher said, "that's undergone a rewrite, hasn't it, by conservatives? They actually think Jesus delivered the Constitution."
Watch video below:
—
>> Follow Matt Wilstein (@TheMattWilstein) on Twitter
Have a tip we should know? tips@mediaite.com