'You Guys Surrendered!': Mark Levin and GOP Senator Shout at Each Other Over Defunding Obamacare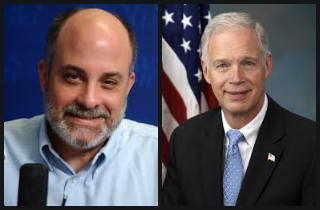 Conservative radio host Mark Levin and Republican Sen. Ron Johnson butted heads Wednesday evening during an intense battle over the Ted Cruz-led effort to defund Obamacare.
Initially, Johnson confronted Levin over the radio host's recent streak of critical comments about conservative thought leaders — namely Charles Krauthammer. "I'm not questioning whether your conservative enough because you don't agree with a different strategy," Johnson said.
The radio host fired back that Johnson and his cohorts have no strategy to defund Obamacare, as promised in his 2010 re-election campaign. "Did you not campaign, sir? Did you not say that Obamacare is the greatest assault of our lifetime?" Levin questioned. "And what have you done?"
Johnson, on the other hand, insisted it was "not helpful" for Levin and others to go around labeling politicians and writers "not conservative enough" because they don't follow the same strategy as Cruz's. "I wasn't expecting to come on here with an inquisition," he lamented at one point.
Things got especially tense when Levin went off on Johnson for not uniting behind Ted Cruz's 21-hour "filibuster" speech last month.
"Let me tell you something, Senator, because I have to go," Levin concluded the segment. "Senator, if 46 of you people, you Republican senators had stood up shoulder-to-shoulder during the filibuster and made it quite damn clear to Harry Reid and the whole world that you were shoulder-to-shoulder, Republican-to-Republican, then the outcome might have been slightly different, wouldn't it?"
After Johnson hung up, Levin wondered: "I don't think he'll be back, Mr. Producer. I thought I was being polite."
Listen to the full segment below, via The Mark Levin Show:
[h/t
MofoPolitics
]
— —
>> Follow Andrew Kirell (@AndrewKirell) on Twitter
Have a tip we should know? tips@mediaite.com