'You Want Her to Die!': Hannity, Pam Geller Come to Blows with Anjem Choudary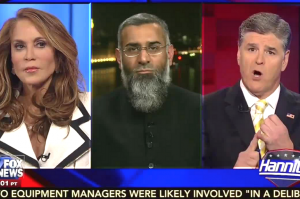 Sean Hannity and Pamela Geller got into a pretty fierce shouting match with Muslim cleric Anjem Choudary over whether Geller should be put to death for organizing a cartoon contest to, as Choudary put it, insult Muhammad and all Muslims. The contest, of course, was targeted by two shooters who ended up dead and have reported ties to ISIS.
Choudary has been on Hannity's show many times before, and tonight Hannity asked him point-blank, "Do you support this death threat against Pam Geller because she ran a free speech contest?"
RELATED: Ingraham Grills Geller: Why 'Go Out of the Way to Offend a Billion Muslims'?
Choudary argued there's a difference between cartoons of Mickey Mouse and cartoons of Muhammad, and said Geller went in "knowing full well" many Muslims consider blasphemy an issue worthy of the death penalty. Hannity went off and shouted, "You want her to de!"
Choudary said Geller should be put before a court and tried, and she would end up punished. Geller shot back, "To blame me and say that my cartoons are controversial… murdering cartoonists is controversial."
They got into a shouting match (Geller told him to stop interrupting and at one point said "I know you're used to stepping over women"), and Choudary told her she "knew the consequences." They continued fighting, Choudary went off on a tangent about the U.S. "murdering innocent people," and Hannity ended by calling him "evil and pathetic."
Watch the video below, via Fox News:
[image via screengrab]
— —
Follow Josh Feldman on Twitter: @feldmaniac
Have a tip we should know? tips@mediaite.com
Josh Feldman - Senior Editor