Your Critics Would Say You're Being Hypocritical: Blitzer Pushes GOP Rep Over Support of Petraeus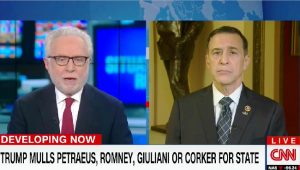 It is being reported that President-elect Donald Trump has whittled down his choices for Secretary of State to four choices. One of those remaining candidates is widely considered to be General David Petraeus, who met with Trump earlier this week.
Now, one of the major criticisms about Petraeus being a candidate is the fact that he pleaded guilty last year to unauthorized removal of classified information, which was related to an affair he had with his biographer. He was sentenced to two years probation and a $100,000 fine.
Rep. Darrell Issa (R-CA) appeared on CNN today to speak about Trump's potential Cabinet picks. When discussing Patraeus, the Congressman — who was a vocal critic of Hillary Clinton and her time as Secretary of State — praised the general, while acknowledging potential issues over his handling of classified info.
"Did he say something that was up true to cover that up? Yes," Issa told host Wolf Blitzer. He added that he is still a "uniquely qualified former military officer.
Blitzer followed that up by asking Issa if he was displaying hypocrisy for his stance.
"You know your critics, Congressman, will say you're being hypocritical," Blitzer stated. "Given what you said about Hillary Clinton's dealing with classified information, and you heard the FBI director, James Comey among others, saying what he did, General Petraeus, was worse than what she did."
Issa justified his support by saying others had lied to Congress before and Petraeus has already been punished. At the same time, he said Petraeus isn't necessarily the first or best choice for SoS.
Watch the exchange above, via CNN.
[image via screengrab]
–
Follow Justin Baragona on Twitter: @justinbaragona
Have a tip we should know? tips@mediaite.com