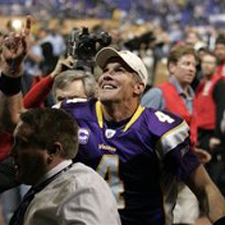 As the NFL playoffs come down to the final four teams, the national sports media begins to ponder the potential matchups – and the potential storylines – of Super Bowl XLIV.  What games would provide the most drama? What combination of teams, cities, and personalities would make for the most compelling television?  What games would be fun to watch? For the NFL, at least this year, there is no wrong answer to these questions.

Regardless of the outcomes of the two playoff games this weekend, the Super Bowl will have plenty of compelling story lines. Mediaite presents a four part series where we tell you who's left in the NFL playoffs, why they matter, and what the media will not stop talking about if they earn a trip to the big game (part three can be found here). Now, we take a look at the Minnesota Vikings.
The Minnesota Vikings (regular season record: 12-4)
What You Need To Know: The Vikings are one of three teams left who have tortured pasts. They have never won a Super Bowl, and like the Saints and Jets, their history is marked by creative ways in which to disappoint their fanbase. But if they play in the Super Bowl, all of the potential goodwill arising from their underdog status will be nullified by one fact: Brett Favre is their starting quarterback.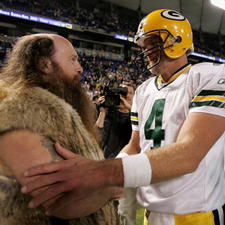 Who Matters: Brett Favre is an alltime great player whose complicated history with fans in and around the Great Lakes region cannot be fully documented here. All you need to know is this: he spent his whole career with the Green Bay Packers (the Vikings' chief rival), and was beloved by the entire state of Wisconsin (where he still has his own restaurant). He then retired, and eventually came back as a Viking. This is the sports equivalent of having a beautiful wife, having an amazing relationship full of love, passion, and devotion with her for fifteen years, hitting a rough patch, inexplicably breaking up, then showing up at a mutual friend's party two years later with your wife's smokin' hot divisional rival.
Who Matters (but not as much): Adrian Peterson, the most prolific half-lizard in football today. Jared Allen, who may or may not be a character from Varsity Blues (the movie version, not the cool new one on TV). Brad Childress, who the internet has dubbed "coach most likely to have a family in his basement."
The Potential Angles: Brett Favre 24/7. The most overexposed sports media story (not including Tiger Woods) might become the most overexposed sports media story (including Tiger Woods).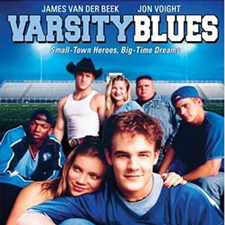 If They Win, The Media Would Love To See Them Play: Peyton Manning and the Indianapolis Colts. For two weeks, the "words the media uses way too often to describe people" chart will be dominated by the following: "greatness", "legendary", "gunslinger", "perfectionist", and "stunning revelation" (I'm banking on the fact that Brad Childress does, in fact, have a family in his basement).
If They Win, The Funnest Team To Watch Them Play Would Be: The Jets, because if they play the Colts, there's a strong chance they'll be blown out. Plus, we'd get to hear about how Brett is playing his former team! Yes, he played on the Jets last year before leaving them, too. And yes, Brett Favre is an NFL manwhore.
That's it for our Guide To Potential Super Bowl Teams. Before you go, here's a pretty awesome Brett Favre play (because, despite being the Benedict Arnold of the NFC North, he's still a great player).
Have a tip we should know? tips@mediaite.com