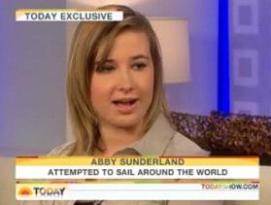 The 16-year-old who attempted to sail around the world was on NBC's Today show for an exclusive interview this morning.
Now that she's safe, the follow-up question becomes – was this part of an attempt to land a reality show? Maybe.
Abby Sunderland and her father Laurence Sunderland (her brother was there as well) talked to Meredith Vieira this morning about all aspects of her adventure, but it was the rumors of a reality show deal gone south, and potential hopes for a future one, that makes this story even more interesting.
Vieira asked if this sail took place to "create buzz" for a reality show that was "in the works." "There was a shopping agreement that was signed with a start-up company, they were unsuccessful, and that was it, basically," said Laurence Sunderland. "Abigail's journey was a passion of hers from the age of 13. Obviously if I let her go at 13 I'd be very irresponsible." (But apparently three years later, it's all good.)
Abby thought people were criticizing the decision for her to sail around the world because "people don't understand. Not a lot of people sail, especially not people my age."
So one potential reality show deal fell through – how about another one? Well…
Vieira: Would you do it again?
Sunderland: I definitely would.
Vieira: Are you making plans to do it again?
Sunderland: Not right now, but I'm going to keep sailing.
Abby and her family wouldn't say they are actively looking for a deal – but seeing Sunderland prepare for, and eventually participate in, another solo sail around the world sounds like it could be a possibility for a reality TV show. Also, her brother Zach who barely talked during the interview but looks a bit like a Jonas brother, could be a supporting cast member.
Here's the interview from this morning, picking up during the reality TV part:


—–
» Follow Steve Krakauer on Twitter
Have a tip we should know? tips@mediaite.com