Your Thanksgiving Viewing Guide (Or, 'Which Charlie Brown Special Do I Watch At 8:30?')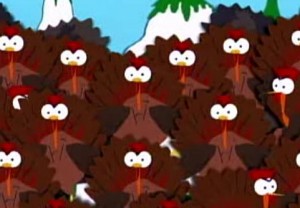 You might flip through your cable guide tomorrow and come upon what you think is a turkey-and-wine-induced hallucination: ABC is showing Charlie Brown Thanksgiving from 8-9 p.m, while FOX will broadcast Happiness Is a Warm Blanket, Charlie Brown from 8:30 to 9:30. Why would two channels program two Charlie Brown specials against one another? Who knows. It's a harsh, sad thing to do on an otherwise happy, sleepy day. Those of us with DVRs can enjoy both. For everyone else, well…
The Charlie Brown specials aren't, obviously, the only programming choices on Thanksgiving. Below is a quick, handy guide to some interesting holiday programming from around the dial (all times Eastern):
12:00 p.m. & 1:00 p.m. The Oprah Winfrey Show, "Oprah's Favorite Giveaway Ever!" (OWN)
Love or hate Oprah, her "giveaway" shows are always kind of fun and sweet. In 2006, she gave her audience $1,000 and challenged them to get creative in helping others. That episode is on at noon. Right after it is the "results" show, in which she caught up with the audience and showcased some of the more creative givers.
12:30 p.m., Green Bay Packers at Detroit Lions (Fox)
Chances are you're going to have some football on at some point in the day. Just for the sake of tradition, it should be a Detroit Lions game, but here's a fun bonus: this season, the Lions are one of the best teams in the NFL. And they're playing the Super Bowl champs and only undefeated team in the league. Need more reasons to make this your NFL game for the day? The Packers and Lions are two of the league's three highest-scoring teams.
2:45 p.m., The Great Outdoors (Encore)
For no other reason than watching John Candy take down the Ol' 96er, and getting yourself fired up for Thanksgiving dinner.
3:55 p.m., Just Friends (Comedy Central)
Fine, it's more a Christmas movie than a Thanksgiving one, but this Ryan Reynolds/Anna Faris comedy is the perfect holiday fare: you can put it on, doze off for 20 minutes, and wake up not having to really know what happened while you were sleeping in order to follow along. Plus, it's one of the more underrated comedies of the last decade.
4:30 p.m., Cheers, "Thanksgiving Orphans" (WGN)
If you happen to have WGN, you're in luck. This Cheers episode is the gold standard of Thanksgiving specials. And all of you WKRP apologists just have to deal with it. For those without WGN, some of the best scenes from the episode can conveniently be found on YouTube here, here, and here.
6:30 p.m., South Park, "Helen Keller! The Musical" (Comedy Central)
It's not as classic as the original Starvin' Marvin Thanksgiving episode, where genetically-altered turkeys threaten to take over the town, but the introduction of Gobbles, Timmy's little turkey that could, made for a surprisingly sweet episode of South Park.
Have a tip we should know? [email protected]