'You're a Lousy Parent': Ed Schultz Insists Parents Tolerant of GTA 5 'Play a Role' in Mass Violence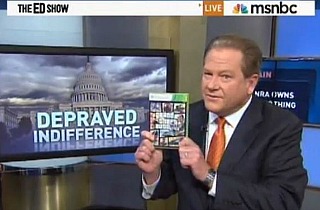 On Tuesday, MSNBC host Ed Schultz tore into what he saw as hypocrisy in the national debate about how best to stem violence in the United States in the wake of the attack on the Washington Navy Yard on Monday. Schultz attacked parents across America who might be allowing their children to purchase and play Rockstar Games' Grand Theft Auto 5.

"It's a dandy," Schultz said, holding up a picture of the game which he noted cost $250 million to produce. "It's called Grand Theft Auto."
"It's got stealing cars, shooting people, and beating up hookers," he continued. "If you're a parent and you allow your son or daughter to watch this – even if they're beyond 18-years-old, you're a lousy parent in my opinion."
'You play a role in this," he insisted. "We all play a role in this."
RELATED: Fox's Elisabeth Hasselbeck: Forget Gun Control, What About Video Game Control?
Shultz questioned why the "freedom of speech" enshrined in the First Amendment to the Constitution which protects the right of game makers to make and sell products like Grand Theft Auto 5 is not an unlimited right.
"When did the First Amendment and responsibility part ways?" he asked. "If you think as a parent this is good for your kid, you're wrong. It's not."
"Oh, by the way, the guy that did the shooting yesterday – he was a big fan of this kind of stuff," Schultz added.
Watch the clip below via MSNBC:
[Photo via screengrab]
— —
> >Follow Noah Rothman (@NoahCRothman) on Twitter
Have a tip we should know? tips@mediaite.com