'You're F*cking With Us, Right?' Jon Stewart Delivers Stinging Takedown of Ted Cruz Filibuster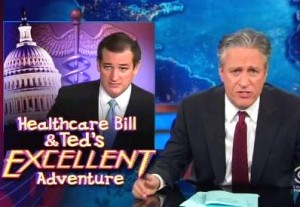 After listening to part of Ted Cruz's 21-hour Nazi-invoking filibuster, Jon Stewart was convinced that whatever Cruz was speaking out against must be nothing less than the zombie apocalypse. So he was more than a little confused at how Cruz was going on about Obamacare, mocking Cruz's constant tangents and his apparent lack of seriousness about really solving America's health care crisis.
And, of course, the Dr. Seuss.
Cruz pledged to talk until he could stand no more. Stewart shot back, "Easy for you to take that kind of physical risk, you have government health care."
Stewart went through all the bizarre pop culture references Cruz made, from Ashton Kutcher and Duck Dynasty to White Castle and Star Wars. But what really killed Stewart was Cruz's somewhat ironic invocation of Green Eggs and Ham.
"So to express your opposition to Obamacare, you go to the book about a stubborn jerk who decides he hates something before he's tried it, and when he finally gets a taste, he has to admit after he's tasted it, 'This is pretty fucking good.'"
Stewart then went after Cruz on the specifics of his health care objections, and ended the segment with an epic reading of a fake Dr. Seuss book called The Bore-ax, containing phrases like "showboatiest blab" and "hours of mouth masturbation."
Watch the video below, via Comedy Central:
[photo via screengrab]
— —
Follow Josh Feldman on Twitter: @feldmaniac
Have a tip we should know? tips@mediaite.com
Josh Feldman - Senior Editor