'You're Morally Bankrupt!' Steve Coogan Goes After An Unapologetic NOTW Reporter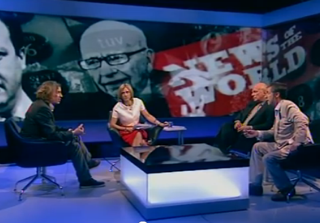 While the News of the World telephone hacking scandal has made its way across the Atlantic, the impact it has had on UK media is stunning, and the few that have come out to defend the soon-to-be defunct newspaper have taken a hit in the press. Take, for example, former News of the World deputy features editor Paul McMullen, who was at various points disparaged as "morally bankrupt" and "a walking PR disaster" by an enraged Steve Coogan on the BBC program Newsnight.
While no longer affiliated with the paper, McMullen visited the program to make the case for tabloid journalism, arguing that the phone hacking was actually a good way of keeping stories as close to the truth as possible ("what better source of the truth than getting such messages?") and that the papers were integral to the health of a free press. Needless to say, Coogan wasn't having any of it. "I think you're walking PR disaster for the tabloids because you don't come across in a sympathetic way," he began, later attacking McMullen for being "morally bankrupt" and calling his claims that press freedoms allow their behavior "absolute BS."
Also on the panel was former BBC General Director Greg Dyke, who agreed with Coogan's point on freedom of the press not being a good enough reason to allow tabloids to exist unregulated. "Broadcasting has always been regulated," Dyke argued, "and broadcasting is doing a much better job than half of the tabloid press. What he's talking about is tittle tattle."
McMullen fought back on both of their claims, arguing that the reason Britain did not have as many corrupt politicians as other countries was do to their tabloid journalists, and that Coogan's arguments were invalid because "you're in the green room talking about all the new houses you bought, oh we feel terribly sorry for you." He also accused Coogan of trying to get himself into tabloid newspapers via public relations people. That's when Coogan got personal. "This guy sat outside my house!" he exclaimed, explaining how tabloid journalists infringe upon the privacy of celebrities. It goes on from there.
While it's just as fascinating because it is a debate that would never happen in the United States (try telling the National Enquirer that the First Amendment doesn't cover them), it's amazing to watch with what naked disgust both celebrities and mainstream journalists alike treat their tabloid counterparts, and if the accusations against News of the World are true, it's hard to see how they couldn't.
The full segment via BBC below:

[h/t Reddit]
Have a tip we should know? tips@mediaite.com