'You're Out Of Order!': Total Chaos Unfolds During State Senate Abortion Debate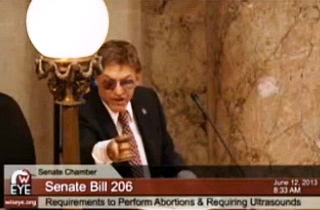 A Wisconsin State Senate debate over a bill requiring women to get an ultrasound before being approved for an abortion descended into chaos on Wednesday morning when Republican leaders attempted to put an end to what they deemed the "theatrics" of their Democratic counterparts.
After Democratic State Sen. Kathleen Vinehout read several letters from constituents lamenting the negative effects the legislation could have on women and victims of rape, her colleague Sen. Mary Lazich (R) implored the room to disregard the "theatrics" of the Democrat's presentation.
Lazich then gave her own monologue, asserting that families have the right to "full information" about their decisions before committing to aborting a fetus. "They make that decision, it's over! It's over in a few minutes," she lamented. "And then later on they can live with the fact that they terminated their pregnancy and it was the best thing for them or they killed their child and they made a horrific decision and they regret it and they wish they never would have done it."
When Lazich completed her speech, Senate Democrats attempted to extend the debate but were met with shouting from Senate President Mike Ellis (R), who demanded an immediate vote. It was then that things descended into chaos.
"It's non-debatable! Call the roll!" he shouted. "You're out of order!"
"You're out of order!" an unidentified State Senator shouted back, reminding this author of Al Pacino's performance in …And Justice For All.
"You're interrupting a roll call!" Ellis yelled back while banging his gavel. "Sit down right now!"
Meanwhile, according to the Associated Press, Senate Minority Leader Chris Larson (D) said "I understand you're afraid of this debate," despite his microphone being cut off.
As Raw Story reports, the bill ultimately passed 17 to 15 "along party lines," and will likely be signed by Gov. Scott Walker (R) in the near future.
Watch below from Wisconsin Eye, as clipped by The Raw Story:
[h/t
The Raw Story
]
— —
>> Follow Andrew Kirell (@AndrewKirell) on Twitter
Have a tip we should know? [email protected]