'You're Putting a Whole Bunch of Critters in' the Swamp: Tapper Grills Trump Adviser on Cabinet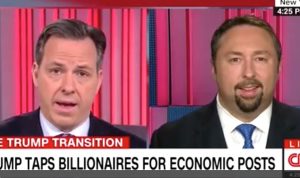 One of President-elect Donald Trump's most resonating messages towards the end of his campaign was his promise to "Drain the Swamp," claiming he would rid Washington of the political and financial insiders. However, three weeks after he surprisingly won on Election Night, many of Trump's picks to fill out his administration have largely consisted of those he railed against.
Speaking to Trump adviser Jason Miller, CNN host Jake Tapper brought this up, specifically in regards to the recent announcement that former Goldman Sachs banker Steve Mnuchin would be Secretary of Treasury.
Tapper wanted to know how Trump could resolve his campaign messaging with his actions now. After Miller praised the choices of Trump so far, Tapper grilled him on how it strays afar from what he said on the trail.
"i guess the point is Goldman Sachs was cast by your campaign as the bad guy," Tapper said. "The people who robbed the middle class, and now you are putting a lot of these same types of people — former Goldman Sachs executive, a turn-around specialist, an investment banker — you are putting them in charge of the economy."
"What is your message," he asked. "Forget spinning or messages or whatever to me. What's your message to a person out there on a street who voted for Mr. Trump thinking, 'You know, he understands that Goldman Sachs is a bad guy.'? What's your message to them when you say, 'Hey, what are you doing? You're putting the same characters — you're not draining the swamp. You're putting a whole bunch of critters in it.' "
Miller stated he couldn't disagree more with Tapper and stated that Trump is just placing the people who helped craft his economic populist plan into the right positions.
Watch the interview above, via CNN.
[image via screengrab]
–
Follow Justin Baragona on Twitter: @justinbaragona
Have a tip we should know? tips@mediaite.com