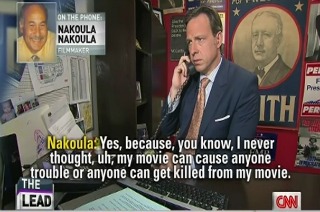 On Tuesday, CNN host Jake Tapper interviewed Nakoula Basseley Nakoula, the filmmaker behind the Innocence of Muslims YouTube trailer which some members of President Barack Obama's administration erroneously blamed for deadly attack on an American consulate in Libya on September 11, 2012. Nakoula was recently released from prison after a parole violation. Nakoula told CNN that he believes the administration was "irresponsible" when they blamed the attack on a YouTube trailer.

Asked by Tapper if the Obama administration put him in danger by blaming the Benghazi attack on him, Nakoula said that he had no comment. The filmmaker added that the government has kept him in hiding for his own safety.
RELATED: RNC Predicts This Quote Won't Make It into CNN and NBC's Hillary Films
While he also refused to comment about the members of the State Department, including then Secretary of State Hillary Clinton's, decision to blame the Benghazi attack on him, Nakoula praised Obama.
"I like him personally," Nakoula said. "I don't blame him. He has a lot of responsibility."
Nakoula said his personal feelings about the Obama administration are less warm. He agreed with Tapper when asked if he thinks the administration was "irresponsible" when they blamed the video for the attack on the Benghazi consulate.
Nakoula described his movie as a "political" rather than a "religious" movie. He emphatically declared that he is opposed to Islamic terrorism.
"Do you think that Islam is a religion that promotes terrorism?" Tapper asked.
"No comment," Nakoula replied.
Watch the segment below via CNN:
> >Follow Noah Rothman (@NoahCRothman) on Twitter
Have a tip we should know? tips@mediaite.com