'You've Got To Be Kidding Me': Fox Host Tears Into 'Laughable' Questioning Of Boston Suspect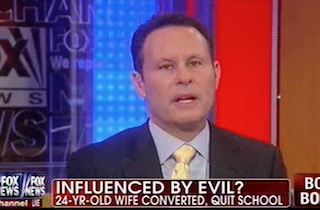 As Fox & Friends reported the latest developments in the questioning of Boston bombing suspect Dzhokhar Tsarnaev, the some of the hosts were a bit skeptical about the new developments. Brian Kilmeade, in particular, criticized the way the interrogation is being conducted and deemed it "laughable" that the suspect was read his Miranda rights in hospital.
Going through some of the information about Tsarnaev being shot in the neck, Kilmeade noted it's being called into question based on an eyewitness report. He further pointed to the suspect alleging his brother was the driving force and they acted alone, calling Tsarnaev's account "convenient."
As the topic of religion arose, believed to be the older brother's motivation, Steve Doocy also chimed in, discussing the brother's past attendance at a mosque in Cambridge and the anti-American "outbursts" he'd supposedly had there.
To that point, Gretchen Carlson added that the older brother appeared to be the radicalized one who influence the 19-year-old suspect. "There's no way you should believe — everyone's apparently running with this story," Kilmeade immediately jumped in.
"You've got to be kidding me. You question him for 90 seconds as he's come out of a harrowing situation like this. He's in self-preservation mode. This guy needs to be questioned for a couple of weeks, they need to see if his story lines up. They all have the same explanation to get out of it in the beginning. And then you've got to drill down on it with professional interrogators. He does not need to see his Miranda rights read to him in bed. Laughable."
Doocy turned to the older brother's widow, wondering what she knew about the plans. While she's said to have been in the dark, Carlson remarked that she'd been "brainwashed" by radical Islam, converting from Christianity.
Kilmeade, meanwhile, pressed on:
"There is no way logically — how do you not know the man you converted to Islam for is not involved in extracurricular activities? You've already switched to his religion. … You don't think it ever came up that, 'By the way, honey, I'm taking it to another level.'"
Take a look, via Fox News:

Have a tip we should know? tips@mediaite.com